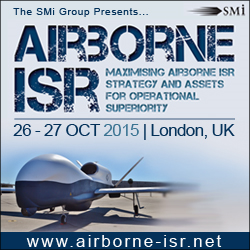 London (PRWEB UK) 15 September 2015
The increased use and investment in airborne ISR capability is a trend that has swept across both established and emerging militaries on a global scale. By providing accurate and timely intelligence, situational awareness is enhanced and force multiplied.
Airborne ISR 2015 aims to cover a variety of key areas, ranging from well-established NATO programmes such as the JISR, to the independent efforts of member states. Additionally, the effective integration of ISR assets, individual and joint training programmes, minimisation of operational costs and the emergence of cutting edge technology shall all feature heavily.
The two day conference agenda will feature over 12 case study driven presentations, speakers representing both military and industry, two panel discussions and up to 6 hours of networking for delegates attending.
The conference will attract a room full of airborne ISR professionals, with a global audience of senior industry thought leaders. Companies confirmed to attend include: BOSH Global Services/Momentum Aerospace Group Global Services, Danish Armed Forces, Danish Army Intelligence Centre, Defense Command Denmark - Air Force Staff, DSTL, Flight Global, French Air Force, General Atomics Systems Integration, Georgia Tech Research Institute, IHS Janes, Joint Air Power Competence Centre (JAPCC), NATO, NATO Headquarters, NATO Industrial Action Group (NIAG), NATO Shape, Royal Air Force, Royal Navy, Swedish Army, Turkish Air Force, UltiSat, University of Oxford, US Air Force plus many more…
The 2015 line-up will feature high level military and industry speakers including:

Air Commodore Paddy Teakle, Deputy Commander, AEW&C Force Command, NATO
Brigadier David Evans, ACOS IS, Information Superiority, Royal Navy
Colonel Laura Ryan, Director of Policy, Plans and Assessments, 25th Air Force, United States Air Force
Lieutenant Colonel Christophe Fontaine, Commander, 1/33 Belfort Wing, French Air Force
Lieutenant Colonel Carl Magnus Svensson, Commander of 32nd Intelligence Battalion, Light Hussars, Swedish Armed Forces
Squadron Leader Steve Knight, 54 Squadron, Commanding Officer for Rivet Joint, RAF
Colonel (ret) Levant Selvi, Former Division Head, ISTAR Division, Turkish Air Force
Robert Murray, Head of ISR, Defence Investment Division, NATO
Dr Hans Elias de Bree, Director for Research and Development, Microflown AVISA
To view the full conference agenda and to book your place visit the website at http://www.airborne-isr.net
Those interested are advised to register before 30th September 2015 and save £100.
Airborne ISR 2015 is proudly sponsored by: Microflown Avisa
For event enquiries please contact the team on: +44 (0) 207 827 6000 or events(at)smi-online.co.uk
For media enquiries contact: Sonal Patel on +44 (0) 207 827 6106 or spatel(at)smi-online.co.uk
Airborne ISR
26th - 27th October 2015
Holiday Inn Kensington Forum, London UK
http://www.airborne-isr.net
------------------------- END --------------------------
About SMi Group:
Established since 1993, the SMi Group is a global event-production company that specializes in Business-to-Business Conferences, Workshops, Masterclasses and online Communities. We create and deliver events in the Defence, Security, Energy, Utilities, Finance and Pharmaceutical industries. We pride ourselves on having access to the worlds most forward thinking opinion leaders and visionaries, allowing us to bring our communities together to Learn, Engage, Share and Network. More information can be found at http://www.smi-online.co.uk