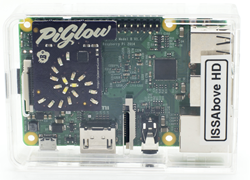 "With Bill Nye at the White House, I'm sure the President will get a sight of the Space Station from the South Lawn. How fitting for Astronomy Night and the students who may be our future Mars scientists."
Monrovia, CA (PRWEB) October 18, 2015
Liam Kennedy, founder of ISS-Above explains:
"I created the ISS-Above to tell you when the International Space Station is going to be in your skies. It's more often than you'd think, as the ISS' orbit takes it around the world every 92 minutes. It might be in your skies 6-8 times per day. ISS-Above is a small device that hooks up to your TV, giving you mission control for the ISS – that's how I know where is it.
Tomorrow night it will be timed just perfectly so that the President can see the ISS at 7:14pm from the South Lawn of the White House as he chats to Bill Nye, CEO of The Planetary Society as well as students, engineers, scientists and innovators gathered for the evening. Mr. Kennedy provided the information to the White House organizers of the event on where and when to look.
"It's great that POTUS is encouraging students to engage with astronomy and make their own discoveries. With the ISS-Above, we're trying to do exactly the same thing: fire the imagination of the nation's youth and inspire the next generation of leading scientists who will take us to Mars and beyond. The device - which has a high-definition live video stream from the Space Station external cameras - allows people to sit and watch what the astronauts see when they look down at the Earth. It's something that encourages you to engage with the Space Station, our only human outpost in space, every day of the year.
"We've invested so much in the Space Station - it's the world's most expensive man-made object - but not enough people are aware it's there, what it's for and what the astronauts are working on all day. ISS-Above helps people make that connection."
-ends
About ISS-Above
Liam is the inventor/programmer of the ISS-Above, a single board computer device (based on a Raspberry Pi) that presents information about the ISS orbit and where the ISS will be. This device has been shipped to more than 1.000 locations around the world. The ISS-Above was featured as a Poster presentation at the 2015 ISS R&D Conference "ISS-Above: Using a Single Board Computer to Raise Public Awareness of the Space Station". ISS-Above started as a fun project for Liam's grandchildren, then got funded through Kickstarter after lots of requests from people wanting one. Today, there's thousands in homes, offices and schools. More at http://www.issabove.com
Notes to editors
ISS Above is sold through http://www.issabove.com
The White House Astronomy Night is now in its sixth year and is intended to inspire the next generation of scientists. https://www.whitehouse.gov/blog/2015/10/15/looking-stars-inspiration-white-house-astronomy-night
ISS is the world's most expensive man-made object (currently standing at $160B): http://www.guinnessworldrecords.com/world-records/most-expensive-man-made-object/