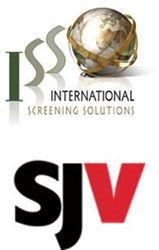 We continue to make investments in our data services, especially WorldWatch Plus and our clearance certificate and national ID databases. - ISS CEO
Kennesaw, GA (PRWEB) April 20, 2017
International Screening Solutions announced today that it has sold certain employment-related verifications operations to focus on data-driven business lines. ISS has reached an agreement with SJV & Associates, also based in Kennesaw, Ga., for the acquisition of ISS's suite of international employer and education verifications, and country-specific criminal background check products.
The agreement with SJV gives ISS customers a transition to another high-quality partner, with experienced, ISS-trained resources. The deal supports the strategic directions of each company. ISS recently announced enhancements to its industry-leading WorldWatch Plus® global sanctions, PEP and adverse media search product, including new sources and a European Union-based solution. ISS also maintains a proprietary database of criminal clearance certificate information, and recently automated processes related to national ID card validation.
"The decision to sell verifications operations to SJV makes the most sense for our customers and employees," said ISS CEO Chuck Papageorgiou. "We continue to make investments in our data services, especially WorldWatch Plus and our clearance certificate and national ID databases."
"We're excited to announce this acquisition, and the numerous ways our customers will benefit from it," said Scott Vanek, Founder & President of SJV. "We remain committed to providing a comprehensive and compliant suite of international solutions for all CRAs."
About ISS
Founded in 2007, International Screening Solutions serves employment and due diligence organizations around the globe. WorldWatch Plus searches global sanctions, watchlist and blacklist data, PEP lists, and worldwide media for anti-money laundering (AML) and know your customer (KYC) programs. The data is completely refreshed daily from 1,600 global sanction sources and 1,100 PEP sources, with an adverse media archive of 6 million articles.
About SJV
SJV & Associates is a Global Solutions Provider, combining innovative technology with human expertise. Driving the highest standards for time service and accuracy with Conventional Court Research, Automated Court Research, International Solutions, MedEx Solutions, and our Verifications Suite; SJV is the Premier Information Supply Chain to the Background Screening Industry.
For more information:
ISS – Ken Kunsman, Chief Marketing Officer, +1 678 784 7640
SJV – Vince Brodt, VP Customer Experience, +1 770 917 0979