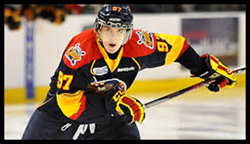 The ISS NHL Draft Guide has become the "bible" for providing the vital information needed to truly understand the NHL Draft from the eyes of professional scouts.
Waterloo, Ontario (PRWEB) June 02, 2015
ISS Hockey announces the release of its final player rankings for the upcoming NHL Draft to be held on June 26-27, 2015 in Sunrise, FL. The rankings are featured in the newly released 2015 ISS NHL Draft Guide.
The industry leading ISS NHL Draft Guide provides the most comprehensive analysis and preview of the NHL Draft. Bigger and Better than ever with over 150 pages, the guide features:
▪ Rankings of the top 220 NHL draft eligible prospects, as determined by ISS Hockey's worldwide scouting staff, including rankings by positions
▪ Detailed Scouting Reports for all ranked prospects, including grading of skills, analysis of strengths & weaknesses, NHL potential, NHL player comparisons, scout comments, and more
▪ Historical Draft and System Analysis for each NHL team, analyzing past drafts and free agency outlooks
▪ Picks of the top Wildcards & Sleepers in the draft, those players who are not highly rated, but ISS feels are likely to develop into impact players in the future
▪ Top 5 players in 14 categories – Skating, Puck Handling, Scoring, Playmaking, Toughness, Offensive Defenseman, Defensive Defenseman, Faceoffs, Best Little Guy, Defensive Forward, Puck Protection, Hardest Shot, Under Rated, and Over Rated
▪ ISS Mock Draft, as picked by the consensus of ISS Hockey's scouts
▪ An outlook on the next two NHL Drafts, with rankings of the Top 50 prospects for 2016 and Top 30 prospects for 2017
ISS Hockey's scouting information and the technology tools provided by ISS parent company HockeyTech are vital tools used by NHL teams in their day-to-day evaluations of prospects and players. For hockey fans and fantasy players, the ISS NHL Draft Guide has become the "bible" for providing the vital information needed to truly understand the NHL Draft from the eyes of professional scouts and NHL GMs. ISS scouts have been tracking the prospects eligible for the NHL Draft for years (typically from the age of fourteen), so they have unique knowledge of the strengths, weaknesses and probabilities for success at the NHL level for these young men.
The hockey media also relies upon the ISS Hockey rankings in their coverage of draft prospects. ISS scouts are relied upon by the hockey media as expert guests leading up to the NHL Draft.
While ISS Hockey scouting information is exclusively available to professional and elite amateur teams all season, the ISS NHL Draft Guide is the only annual opportunity for fans to "Get What the Pros Use!" To order or get more info, go to: http://ISShockey.com/nhldraftguide
Below is the Final ISS Top 30, highlighting the final rankings of the top 30 prospects for the NHL Draft. An interactive page where the Final ISS Top 30 can be viewed, sorted, commented on, and where users can interact with our scouts can be viewed at: http://ISShockey.com/iss-top-30
Rank-Name-Position-Team-League
1 - McDavid, Connor - C - Erie - OHL
2 - Eichel, Jack - C - Boston University - H.E.
3 - Strome, Dylan - C - Erie - OHL
4 - Crouse, Lawson - LW - Kingston - OHL
5 - Hanifin, Noah - LD - Boston College - H.E.
6 - Marner, Mitchell - C - London - OHL
7 - Provorov, Ivan - LD - Brandon - WHL
8 - Barzal, Mathew - C - Seattle - WHL
9 - Rantanen, Mikko - RW - TPS Turku - FinE
10 - Zacha, Pavel - C - Sarnia - OHL
11 - Werenski, Zack - RD - Michigan - BigTen
12 - Konecny, Travis - C - Ottawa - OHL
13 - Connor, Kyle - C - Youngstown - USHL
14 - Meier, Timo - RW - Halifax - QMJHL
15 - White, Colin - RW - USA Under18 NTDP - USHL
16 - Chabot, Thomas - LD - Saint John - QMJHL
17 - Bittner, Paul - LW - Portland - WHL
18 - Svechnikov, Evgeny - RW - Cape Breton - QMJHL
19 - Merkley, Nick - C - Kelowna - WHL
20 - Ek Eriksson, Joel - C - Farjestad - SweJE
21 - Carlo, Brandon - RD - Tri-City - WHL
22 - Zboril, Jakub - LD - Saint John - QMJHL
23 - Roy, Jeremy -RD - Sherbrooke - QMJHL
24 - Guryanov, Denis - RW - Togliatti Ladya - RusJr
25 - Harkins, Jansen - C/LW - Prince George - WHL
26 - Sprong, Daniel - RW - Charlottetown - QMJHL
27 - Debrusk, Jake - LW - Swift Current - WHL
28 - Bracco, Jeremy - RW - USA Under18 NTDP - USHL
29 - Juulsen, Noah - LD - Everett - WHL
30 - Carlsson, Gabriel - LD - Linkoping - SweJE
About ISS Hockey
ISS Hockey (International Scouting Services) is the world's leading independent scouting and information provider on hockey prospects. Founded in 2002, ISS is a division of HockeyTech, a worldwide leader in hockey technology, analytics and information services. ISS scouts, evaluates, analyzes and ranks players internationally on behalf of its many clients. ISS data is widely utilized in the hockey world, building an industry leading reputation for the best and most comprehensive scouting information. The key to the success of ISS is the incredible worldwide network of ISS Hockey scouts. ISS scouts are within reach of every young hockey player in the world, and attend every major hockey tournament, in addition to thousands of league games. All players that we rank will have been seen and evaluated many times by several ISS scouts.
Get free ISS Hockey membership at: http://ISShockey.com/register
Follow ISS Hockey on Twitter: @ISShockey
Like ISS Hockey on Facebook: Facebook.com/ISShockey