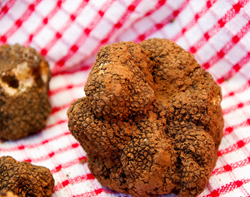 Istria is considered a gourmet paradise and an outstanding Fall destination. It is here that you can find the best Croatian wines, and where the rare white truffle finds its home.
Nwe York, NY (PRWEB) September 30, 2015
Just a couple of hours' drive from Trieste, in Italy, you will find Istria, a region where gourmet food and wine, beautiful landscapes and ancient history meet in one place. Select Croatia (https://selectcroatia.com), an online boutique travel company specialized in customized itineraries for independent travelers and providing the support for planning a memorable vacation in Croatia, takes you to the heart of the gourmet story about the famous Istrian truffle and suggests two tours to experience this unique combination of extraordinary panoramas and fine food and wine.
The truffle is a mysterious and unique tuber, completely concealed under ground. There are 70 varieties of truffles in the world, 34 of which come from Europe. Istrian forests boast three varieties of black truffles as well as the big white truffle. Truffle hunting season in Istria starts at the end of September and finishes in early November. During this time, Istria celebrates this unique delicacy and invites all gourmands to join the international gourmet expo: Zigante Truffle Days, which runs from September 20 until November 1. Select Croatia offers two unique experiences to travelers and foodies interested in discovering the Istrian flavors:

Istrian Delights: Truffles, Canyons and the Smallest Town in the World starts with a truffle hunt, introduces travelers to the world of Istria's best panoramas at Lim Fjord, and is concluded by a visit to Hum - the smallest town in the world. The tour ends at a local restaurant famous for its fresh truffles, where you can taste unique creations like truffle gelato.
Truffle Hunting in an Istrian Forest starts with the scenic views of Lim Fjord, and will show you the basics of truffle hunting with a demonstration led by the famous Zigante company in the Livade forest. It concludes with a delicious 4-course lunch at the Zigante restaurant.
"Istria is considered a gourmet paradise and an outstanding Fall destination," says Maja Gudelj, Director of Croatia and Mediterranean Yacht Charters. "It is here that you can find the best Croatian wines, and where the rare white truffle finds its home. The climate is warm, the sun still easily warms up the days, and is perfect for long walks on the beach after enjoying the best local delicacies. Any visitor to the region will be welcomed with open arms by the locals, who are eager to share their culture, history, and cuisine."
For more information about Select Croatia's guided tours, food and wine services, and other travel products, visit selectcroatia.com or send an email to croatia(at)selectitaly(dot)com.
About Select Italy
Select Italy® is The Ultimate Source for Travel to Italy® and offers a wide array of superior Italian travel products and services, including customized itineraries, state-of-the-art tours and packages, wedding/honeymoon trips, unique culinary classes, a complete pre-departure ticketing service for museums and musical events, private guided services, yacht charters, transportation, hotel reservations, villa bookings and more. Through a vast network of suppliers and cultural contacts, anything and everything you need for optimum travel to Italy is possible with Select Italy. Based in Chicago with an office in New York and Shanghai and support staff in Italy, the company has expanded its offerings and travel services to the Balkans with the launch of Select Croatia®.