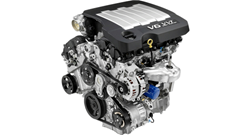 The pull out of Isuzu from the U.S. auto market has created more frustrations for owners of vehicles and we're now supplying a low cost way to replace a motor
Portland, OR (PRWEB) December 10, 2014
Buying foreign vehicle motors will no longer come with frustrations for consumers who use the Revven company online. New acquisitions of Isuzu used auto engines is now in place along with a better price for all orders that are processed through the company website at revven.com.
The special pricing is available to consumers who live in the United States and each order comes with a complimentary term of warranty protection. The Isuzu motors now for sale include inventory for Trooper, Ascender, I-Series, commercial trucks and other foreign made vehicles. Both GM issued and Isuzu vehicles are supported with the preowned motors now in stock.
"The pull out of Isuzu from the U.S. auto market has created more frustrations for owners of vehicles and we're now supplying a low cost way to replace a motor," said one Revven source.
The advantage of carrying engines for more than one make or model is expected to pay off in 2015 for the Revven company. A much larger inventory is expected for foreign produced motors next year to aid even more automobile, van, truck and SUV owners in finding a low mileage motor at a price lower than MSRP.
"We've setup our portal to provide a lot of information concerning pricing, warranties and shipment data to assist shoppers when ordering motors on the web," said the source.
The Revven company is continuing to support consumers by telephone by way of its new toll-free phone ordering system. The number at 1-877-808-5529 is now active and can be helpful to a person who plans to obtain more information about used Isuzu engines or other brands prior to placing shippable orders.
About Revven.com
The Revven.com company is one of the national resources in the U.S. that supplies prices and shipments for automotive engines that are in preowned condition. The company acquisitions that take place monthly help connect consumers with quality inventory. The Revven.com company portal now features a real time price quotation system that displays in stock price data for different brands of domestic or European manufactured motors to consumers.