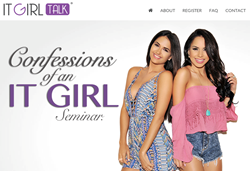 What is an IT Girl? A young woman who possesses the indefinable quality that attracts all others with its magnetic force.
(PRWEB) March 30, 2015
IT Girl is a new program dedicated to the mentoring of young woman interested in becoming the best possible version of themselves. Lisa Morales, a TV personality, host, model, brand ambassador, philanthropist, and fitness mentor, and Sindy Perez, an international freelance model, makeup artist, and commercial photographer, are hosting two day seminars in Miami to help any woman take their modeling careers, digital brand and social status to the next level.
In each two day seminar, Lisa and Sindy will help attendees make the best first impression, find daily inspiration, make fitness and lifestyle changes, apply makeup correctly and fabulously, launch their personal brand with a special focus on utilizing social media and in their special supermodel program, they will show aspiring models how to get noticed and, most importantly, how to make money and be successful.
They want to share their 20 years of combined experience that has helped them find success in their own careers with any young woman who wants to discover the IT Girl they always wanted to be but never knew how.
Website designed by Nashville based web design company, GoHooper.com