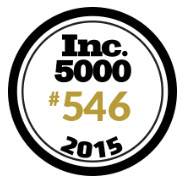 We are extremely proud of this achievement. Our employees and partners are doing a phenomenal job servicing our clients, which is leading to follow-on and referral business that is fueling the company's accelerating growth
(PRWEB) September 15, 2015
IT Partners, a Women Owned Small Business that delivers SAP technology services and solutions to the federal government, is proud to announce that it has made the Inc. 5000 list for the second consecutive year.
IT Partners ranked No. 546, placing it in the top 11% for 2015 with a three-year growth rate of 849%. At the award ceremony in Orlando, IT Partners will stand amongst some of America's most notable private companies. The three-year growth rate of 849% substantially outpaced the median growth rate from 2014 and helped to propel ITP to No. 546 from last year's position of No. 976.
"We are extremely proud of this achievement. Our employees and partners are doing a phenomenal job servicing our clients, which is leading to follow-on and referral business that is fueling the company's accelerating growth," said Christine Cecchini, CEO of IT Partners. "We are honored to be recognized by Inc.com as among the nation's most innovative, dynamic, and successful companies."
To read more about the Inc. 5000 list and other related stories, check out http://www.inc.com/inc5000.
About IT Partners Inc.:
IT Partners Inc. is a SAP consulting firm headquartered in the Greater Pittsburgh area. As one of the leading small business, women-owned SAP companies in the USA, ITP offers comprehensive planning, ERP development expertise, resource allocation, implementation and upgrade assistance and training to companies using SAP in the Eastern United States through on-site and remote access consulting. IT Partners, Inc. specializes in IT consulting services including: onsite SAP consulting, remote SAP consulting, SAP training development, SAP application development, SAP application integration, and SAP BW/BOBJ Analytics including SAP HANA. http://www.itpsap.com