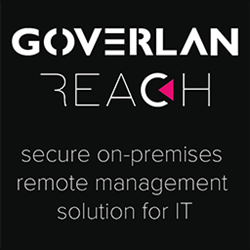 Greater reach should not mean weaker security
Miami, FL (PRWEB) April 25, 2017
Goverlan Inc., a leading provider of IT management software, has announced the release of Goverlan Reach®, which offers a secure and compliant way for organizations and IT service providers to support remote users and computers, no matter where they are.
As a direct response to growing concerns over the security of remote access solutions, Goverlan Reach offers an on-premises software solution—independent of any outside service or vendor to establish connections—eliminating external points of failure and minimizing the attack surface. Additionally, Goverlan Reach ensures that privileged identity management remains on-site and leverages Windows authentication, strong encryption, and audit collection to optimize security.
"Greater reach should not mean weaker security," said Pascal Bergeot, CEO of Goverlan Inc. "Organizations too often struggle to effectively and securely support their mobile workforce. Goverlan Reach enables our clients to expand the horizons of their control without compromising on security."
Goverlan Reach is built specifically with the enterprise in mind and is not a converted consumer product. It offers a powerful and extendable toolset, including: advanced remote desktop access; comprehensive behind-the-scenes systems management; and global IT process automation on attended or unattended machines, regardless of location and firewall configuration.
Goverlan Reach is priced per operator, with unlimited internal nodes and a small annual fee for external nodes. Operator licenses can be purchased on a perpetual or subscription basis.
Click here to find out more about Goverlan Reach®.
-- About Goverlan
Goverlan is a leader in Secure Remote Access. Goverlan enables IT teams to support desktops and servers in real time, without user interruption via background systems management, IT process automation, and secure remote desktop access. Goverlan's privileged identity management is implemented on-premises to eliminate external points of failure and security breaches.
Chosen by IT professional worldwide, Goverlan is renowned for its ease-of-use and extensive feature set. Connect with Goverlan at http://www.goverlan.com, or on Facebook, Twitter and LinkedIn.
-- PR Contact Details
pr(at)goverlan(dot)com