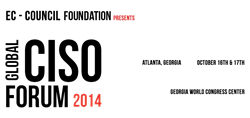 Adaptive Security Architecture: Visibility, Controls, and Response to Meet Today's Threats, Violations, and Consumerization
Atlanta, GA (PRWEB) August 11, 2014
EC-Council Foundation's premier executive event, the Global CISO Forum, has added an all-star panel to its agenda. The Global CISO Forum's theme this year is Striking a Balance – Strong Fundamentals versus Next Generation Innovations. The agenda is broken out into two days – one for fundamentals and one for innovation. The panel session, titled Adaptive Security Architecture: Visibility, Controls, and Response to Meet Today's Threats, Violations, and Consumerization; will take place on the innovation day as the panel participants examine processes and technology that support an adaptive strategy as the best way to manage risks and an ever-changing landscape of threats. The Global CISO Forum will take place in Atlanta, GA, October 16 and 17, 2014.
Panel participants include Chuck Deaton, Deputy CISO of Enterprise Information Protection at Humana; Ken Pfeil, CISO at Pioneer Investments; and Scott Gordon, CMO at ForeScout. The panel participants represent a wide variety of industry perspectives and goals when it comes to information security. Humana, for instance, is one of the nation's largest publicly traded health and supplemental benefits companies and so Mr. Deaton will bring the experience of securing data in a healthcare environment. Representing the financial industry, Mr. Pfeil will bring a very different perspective on protecting organization and customer data as Pioneer Investments is a leading global investment manager. Steering the discussion will be Scott Gordon of ForeScout, a leading provider of pervasive network security solutions that allow organizations to continuously monitor and mitigate security exposures and cyber attacks.. Mr. Gordon is an accomplished and industry-recognized leader who has helped evolve security information management, network and endpoint security, and risk management technologies.
The Global CISO Forum is an invite-only event taking place in Atlanta, GA on October 16 and 17, 2014 open only to senior information security executives (C-levels, VPs, Senior Directors, etc.). Anyone interested in attending should send their resume to amber.williams(at)eccouncil(dot)org. Also at the Forum will be the second annual CISO Award Ceremony where the EC-Council CISO, CIO, and CCISO of the year will be crowned. Past winners include Ron Baklarz, CISO of Amtrak; Tim Greiveson, CIO of G4S Risk Management; and Sanath Manatunge, Chief Risk Officer (CRO) at Commercial Bank of Ceylon Plc.
About the EC-Council CISO Program:
EC-Council's CISO Program has three components: CISO Events, the Certified CISO (C|CISO), and CISO Resources – a repository for white papers and articles geared toward a CISO crowd. EC-Council's CISO Events are invitation only and geared specifically for high-level, executive information security professionals. Combining keynotes with panel discussions, the events are opportunities for CISOs from around the world to hash out the trends and challenges of information security among their peers. The C|CISO is a certification recognizing an individual's cumulative experience and expertise in executive information security management. Overseen by a board of seasoned and distinguished professionals, the C|CISO Program has certified over 700 IS executives from around the world. For more information about EC-Council's CISO Program, please visit ciso.eccouncil.org.
About EC-Council Foundation
EC-Council Foundation is a charitable and educational organization dedicated to educating and training individuals in security skills. Established in 2012 by EC-Council, the foundation seeks to raise awareness, build capacity across nations and ultimately promote global peace. EC-Council Foundation's mission is to foster collaboration and participation by global digital citizens to become advocates for safe, secure online activities and to foster online child protection through education. For more information, visit foundation.eccouncil.org.