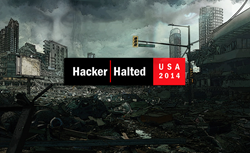 ... this is a people and technology problem.
Atlanta, GA (PRWEB) June 11, 2014
Aamir Lakhani is just one of a bevy of notable and industry-leading speakers set to present at Hacker Halted, EC-Council Foundation's cyber security and hacking conference. Lakhani is a leading security architect and runs the popular security blog Dr. Chaos. He is responsible for providing IT security solutions to major commercial and federal enterprise organizations as well as designing offensive counter defense measures for defense and intelligence agencies.
His presentation, "Would you like a side of passwords with your order?," will delve into the dangers that phishing and other social engineering attacks pose to large organizations. "Hackers can clone popular websites, redirect people to malicious sources, and compromise your network," says Lakhani "but this is a people and technology problem." His talk will include some startling research that reveals how using phishing, hackers can infiltrate even the best protected networks. This includes networks with the latest web security, application firewalls, and even comprehensive user security training.
Aamir Lakhani's speech will begin by, "describing how we replicated the normal network experience to bypass any user training." The idea was that suspicious web sources can be blacklisted which will stop the connection to the attacker's defense server. Lakhani cautions, "Unfortunately, we found a hole in this best practice defense measure. The common defense is training your users as well as leveraging both reputation and source cataloging of in and outbound network traffic."
Hacker Halted attendees can look forward to Aamir Lakhani and other high-caliber speakers in addition to industry-leading training and hacking clinics. For more information, or to register, go to http://www.hackerhalted.com.
About EC-Council Foundation
EC-Council Foundation is a charitable and educational organization dedicated to educating and training individuals in security skills. Established in 2012 by EC-Council, the foundation seeks to raise awareness, build capacity across nations and ultimately promote global peace. EC-Council Foundation's mission is to foster collaboration and participation by global digital citizens to become advocates for safe, secure on-line activities and to foster online child protection through education. For more information, visit foundation.eccouncil.org.
About Hacker Halted
EC-Council Foundation's flagship information security conference, Hacker Halted, aims to raise awareness toward increased education and ethics in information security. This information security conference series covers in-depth topics into the development of security issues plaguing the world. Hacker Halted features many world-renowned subject matter experts and high-level speakers, as well as some of the best technology companies showcasing their products and services. Hacker Halted provides the most sought after technical training and certification classes offered through Hacker Halted Academy.