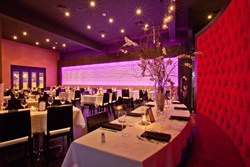 We are delighted to welcome familiar and new faces to experience an exquisite menu of Italian cuisine with a flair of Latino accompanied by an elegant ambiance for an overall amazing experience. - Owner Nick Di Costanzo
New Rochelle, NY (PRWEB) August 09, 2013
Celebrating their grand opening on Wednesday, August 21st, Capriccio Latino Restaurant invites the media to come and experience an exciting culinary venture—classic Italian cuisine prepared with a Latin twist. The media is welcome to sample the fare and flair of this beautiful new restaurant with complimentary hors d'oeuvres and cocktails. Located at 414 Pelham Road New Rochelle, New York, Capriccio Latino offers a sophisticated menu, fine dining, and spectacular water views overlooking the marina as well as al fresco dining on the patio. Media can RSVP by Monday, August 19 by emailing info(at)capricciolatino(dot)com.
Capriccio Latino is also hosting a "Neighborhood Appreciation Day" where local residents are invited to sample complimentary hors d'oeuvres and cocktails when the restaurant officially opens on Tuesday, August 20th.
The mouth-watering menu is handcrafted delicately with main courses, such as

Misto Frutti di Mare (shrimps, clams, calamari, and mussels in a red sauce)
Mamma's Stuffed Chicken Breast Europeo (with prosciutto, mozzarella, mushroom, and spinach in a Marsala wine sauce)
Pork Chops Mediterraneo (grilled succulent pork chops with mushrooms, onions, and peppers)
The tasteful small plates menu will be a hit with delicious dishes including

Tostones Sol y Mar (green plantains topped with beef, shrimp, or guacamole)
Calamari Enojado (crispy calamari rings in spicy oil tomatoes on a bed of greens)
Scallops Isleña (seared scallops in a lemon, white wine, and herbs sauce)
Capriccio Latino proudly presents a world-class Mojito Bar where patrons can enjoy exotic and delicious drinks hand-crafted by skilled mixologists. Selections include Strawberry and Champagne Mojito, White Wine Mojito with Midori, and Hennessey Mojito with Cranberry Juice. Our bamboo-laced lounge is the perfect place to relax and take a destination trip with a selection of international rums from Puerto Rico to the Yucatan to Hawaii. No passport for the palette required.
About the Company:
Capriccio Latino is an Italian restaurant that keeps the roots of old-world Italian cooking close to its heart as it adds a twist of Latin flair. Nick Di Costanzo, owner of Capriccio Latino, has proudly served the Westchester and Bronx for over 30 years. Influenced by its predecessors, the famous Mamma Francesca and the popular Siete Ocho Siete, owner Nick Di Costanzo established Capriccio Latino to present an exciting menu that marries the bold and complimentary flavors of Italian and Latino cuisines. The modern, elegant dining experience that includes water-view and al fresco dining is perfect for couples, families and friends. With a venue space that can accommodate parties of up to 80 diners, the restaurant is ideal for larger gatherings and special events. Capriccio Latino is conveniently located at 414 Pelham Road, New Rochelle, New York.