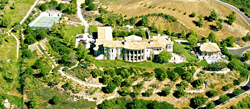 Westlake Village, CA (PRWEB) May 17, 2014
When you think of Los Angeles, what defining images pop into your mind? Hollywood and the "HOLLYWOOD" sign? The Television, Film, and Music Industries? Universal Studios?
For many, Los Angeles is epitomized by the film industry. But, oddly enough, most of the filming takes place outside of Los Angeles County.
Hidden Valley, an affluent equestrian community tucked between Westlake Village and Thousand Oaks in Ventura County, is one of the most popular filming areas in Southern California. Barely a week goes by when "location" signs are not seen mounted on a stop sign (there are no stop lights).
A rural wonderland of sprawling ranches and magnificent estates framed by the Santa Monica Mountains National Recreation Area, Hidden Valley has been a popular filming location since the 1920's when "The Adventures of Robin Hood" (Douglas Fairbanks) was filmed in what is now known as "Lake Sherwood". Much of "Seabiscuit" (Tobey Maguire, Jeff Bridges, Elizabeth Banks) was filmed in Hidden Valley, as were parts of "Lassie Come Home", "Doctor Dolittle" (Eddie Murphy, Peter Boyle), "Wuthering Heights", "Jungleland", "Grapes of Wrath" (Henry Fonda), "Rawhide" (Clint Eastwood), "Memoirs of A Geisha", "Roadhouse" (Patrick Swazye), "Bonanza" (Lorne Greene & Michael Landon), "We Bought a Zoo" (Matt Damon, Scarlett Johansson), and many westerns featuring Roy Rogers and Gary Cooper.
In the past, one particularly popular film location has been an Italian Villa on over 20 acres located in White Stallion Ranch. One of the most exclusive enclaves in Hidden Valley, White Stallion Ranch was originally developed by Sylvester Stallone ("the Italian Stallion") and Bruce Willis. This 250-acre property was split into 10-twenty plus acre gated estate sites.
The Italian villa, located at 2300 White Stallion Road, was designed by renowned architect, Ronald G. Firestone. It has been cast in many films and commercials as the mansion of Hollywood's millionaires. During the filming of "Bedtime Stories", Adam Sandler requested to live in its pool house. The villa, currently listed for sale at $10.5 million, is represented by RE/MAX Olson & Associates, Inc. of Westlake Village.
Eight other mansions have been built in White Stallion Ranch, a Queen Anne Victorian masterpiece once owned by a British Lord and Lady, a French Chateau, whose pool was modeled after the pool at the Hotel Cap d'Antibes in the south of France, and whose gardens were inspired by Versailles, and a red brick Edwardian-style mansion straight out of Downton Abbey. There also are several rambling Spanish style ranches. Each property can accommodate up to twelve horses.
Hidden Valley is an unincorporated area of Ventura County. It boasts its own lake, Country Club with tennis courts and a championship 18-hole Jack Nicklaus signature golf course, and is less than 10 miles from the Pacific Ocean. Thousand Oaks, Westlake Village and the Santa Monica Mountains border it. In 2006, Thousand Oaks was named as one of Money magazine's "10 Best Places to Live".
Westlake Village, a planned community built around a lake, is one of the most affluent communities in Southern California. Wedged between the two, Hidden Valley has the advantage of being sheltered from city noise and traffic, but it is just minutes from upscale shopping and gourmet dining. The area includes over 15,000 acres of dedicated open space and over 75 miles of trails, making it a sought after area in which to live, hike, horseback ride, mountain bike, and golf.
Related News:
Jordan Cohen RE/MAX Olson & Associates Announces Italian Villa Luxury Real Estate in Southern California, Featured in Commercials and Films, Now for Sale in Hidden Valley