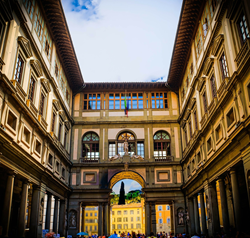 In order to avoid peak crowds at popular sights, we advise to book an early or late reservation time. Check the museum hours and plan your visit accordingly
Chicago, IL (PRWEB) May 13, 2015
More than 6 million tourists visited the Colosseum and the Roman Forum in 2014 and, due to the massive tourism flow expected for the Expo, there are sure to be many more visitors this year. As the peak season is just around the corner and the estimated wait time at popular sites like the Uffizi could be up to 3 hours, Select Italy (http://selectitaly.com), the online travel company, presents its 'Skip the Line' tickets that guarantee a fast admission to the most popular sites.
Boasting more than 4,500 museums, Italy makes the perfect destination for travelers interested in cultural and artistic heritage. Through Select Italy's website, it is possible to gather information about Italian museums, from planning tips to wait time, as well as to buy tickets to both popular and off-the-beaten-path attractions. Among its offerings, Select Italy includes 'Skip the Line' tickets that guarantee admission at a reserved time, thus avoiding the general line:

"In order to avoid peak crowds at popular sights, we advise to book an early or late reservation time. Check the museum hours and plan your visit accordingly," says Justin Anderson, Manager of Operations & Client Services. "Off-the-beaten-path museums are another option to assure a pleasant visit: the Scrovegni Chapel in Padua is a hidden gem that is an easy stop on the way to Venice from Florence or Bologna by train."
The entire portfolio of museum tickets can be found on the company website. For more information about Select Italy travel products, visit selectitaly.com or send an email to info(at)selectitaly(dot)com
About Select Italy
Select Italy® is The Ultimate Source for Travel to Italy® and offers a wide array of superior Italian travel products and services, including customized itineraries, state-of-the-art tours and packages, wedding/honeymoon trips, unique culinary classes, a complete pre-departure ticketing service for museums and musical events, private guided services, yacht charters, transportation, hotel reservations, villa bookings and more. Through a vast network of suppliers and cultural contacts, anything and everything you need for optimum travel to Italy is possible with Select Italy. Based in Chicago with an office in New York and Shanghai and support staff in Italy, the company has expanded its offerings and travel services to the Balkans with the launch of Select Croatia®.