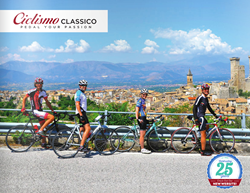 As pioneers of bicycle vacations, Ciclismo Classico offers some of the most unique tours in the travel industry.
Arlington, MA (PRWEB) September 26, 2013
After more than a year of careful planning and nine months of passion, patience and hard work, the entire Ciclismo Classico family joyfully welcomes the brand new Ciclismo Classico "Pedal Your Passion" website to the wonderful world of active travel. Launched on September 20, 2013, the gorgeous new website offers clean design and smooth functionality.
"It looks and feels like just a Ciclismo Classico tour," said company founder and CEO Lauren Hefferon. "It's magical, fun, educational, flowing, energizing, and inspiring."
Hefferon believes guests will appreciate the NEW trip finder tool, intuitive and adventurous site navigation, sliding photo displays, and a mobile-friendly design.
"Simply select the dates, location and cycling level, and the website will suggest the perfect tour for each guest," said Hefferon.
As pioneers of bicycle vacations, Ciclismo Classico offers some of the most unique tours in the travel industry and is offering special savings on several 2014 spring & early summer Italy departures. Until October 15, 2013 travelers can save 15% (that's $1,200 to $2,200 per couple) on the following best-selling Italy bike tours:

Heart of Tuscany: 05/04/14 - 05/10/14
La Bella Puglia: 04/26/14 - 05/04/14
Bike Across Italy: 05/20/14 - 05/31/14
Giro d' Italia: 05/25/14 - 06/08/14
Bike Across Italy: 05/11/14 - 05/21/14
There are also special discounts up to 18% available for Ciclismo Classico Alumni. For more information, call 1.800.866.7314 or visit http://www.ciclismoclassico.com. To see Ciclismo Classico's 2014 brochure, click here.
About Ciclismo Classico:
Join a Ciclismo Classico tour and you'll soon find yourself "Pedaling your Passion," a uniquely "Italian" approach to bicycle travel that embraces La Dolce Vita at every turn and invites you to find your very special passion on every tour. Whether it's soaking in the scenery, learning to make pasta, taking hundreds of photos or learning about Renaissance architecture, you'll re-connect with your own passion with our special native guides who connect you to the culture and landscape like no one else can. At each culture stop, restaurant and lodging owners greet you like family and lavish you with magnificent food and wine. You're immersed in the local culture and always with friends. Ciclismo Classico transforms a European cycling trip into an eye-opening, life-altering adventure you'll never forget. Come ignite Your Passion and pedal with us!