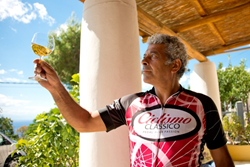 Grapes are harvested early-to-mid-fall when temperatures are mild during the day and cool at night.
Arlington, MA (PRWEB) July 28, 2015
The grape harvest, or vendemmia, is an important and deeply-rooted Italian cultural tradition where local producers begin harvesting the fruit of their labor. It is an evocative time to travel to Italy; hillsides are cloaked in ready-to-pick grapes, and a fragrance of fermenting wine permeates the air as you cycle along quiet country roads. Grapes (and other produce) are harvested early-to-mid-fall when temperatures are mild during the day and cool at night. Every region of Italy grows grapes, but the most well-known are Piedmont, Veneto, Emilia Romagna, Tuscany, Puglia, and Sicily. Below we have detailed our top five Italian cycling tours during the fall harvest season. For more information, contact http://ciclismoclassico.com/.
1) Piedmont: Land of Barolo & Truffles
Barolo and Barbaresco are two of the 17 DOCG and 42 DOC wines in Piedmont; incredibly rich red wines made from Nebbiolo grapes. Enjoy exclusive winery visits and tour some important enoteche (wine showrooms). With great wine comes delightfully paired cuisine, a blend of Northern Italian and French influences with the truffle and mushrooms as key players. The food is out of this world, and mixed with superb Piemontese wines, this is an unforgettable gourmet tour.
2 and 3) Heart of Tuscany / Assaggio Toscana
The atmosphere in Tuscany during the vendemmia is magical. The star grape is the Sangiovese, the principal red of Tuscany and the main ingredient in labels such as Chianti Classico, Brunello di Montalcino, Vino Nobile di Montepulciano nd Morellino. Whichever Tuscany tour you choose, you will be met with incredible views and taste some of these noble wines.
4) La Bella Puglia
Olive harvesting begins in late September and runs through November and December. As you pedal through ancient olive groves, you'll notice nets covering the ground under the trees, collecting fallen olives. The extra-virgin olive oil produced in Puglia is among the best in the world. On our tour, you visit the award-winning Frantoio olive oil press.
5) La Bella Sicilia
The scenery is dotted with shades of vibrant colors from brown, to red and yellow. The hues blend together for a feeling of warmth; the mild climate of Sicily during the fall is perfect for long strolls, by foot or bike. On this tour, you'll visit a local Slow Food presidia famous for the production of capers, olive oil and Malvasia wine. Before tourism, capers and Malvasia wine were the driving force behind the local economy.
About Ciclismo Classico:
As a specialized "boutique" tour operator since 1988, Ciclismo Classico provides the most authentic, unique and exciting vacations in the adventure travel industry. Its well-crafted educational trips are active immersions into local art, language, music and, of course, cuisine. By combining legendary service and rare cultural experiences, the Ciclismo philosophy continues to energize and transform each and every guest.