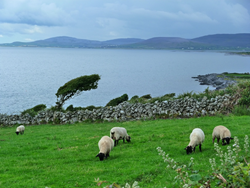 We are the Italy experts, but offer an array of other cycling and photography tours worldwide.
Arlington, MA (PRWEB) March 25, 2015
Ciclismo Classico has been the leading Italian cycling tour operator since 1989, with many of its itineraries originating from founder Lauren Hefferon's years of exploring the many corners of Italy by bike. However, they also offers an array of great, and even award-winning bike tours beyond Italy. From Slovenia and Austria to Peru and Ireland, Hefferon and her team arranges a vast selection of worldwide cycling and photography tours. Below are a few tours to add to the bucket list. For more information, call 800.866.7314.
Pyrenees Sea to Sea - Ride through the Pyrenees, crossing from the Atlantic to the Mediterranean, summiting many famous cols and relaxing in the soothing thermal waters of Ax-les-Thermes. You'll never forget your visit to the prehistoric cave in Niaux, the pilgrimage site of Lourdes, or your hike through the glacial region of the Cirque de Gavarnie.
Ireland's Dramatic West Coast - Ireland is a land that embraces the imagination with its breathtaking landscape, welcoming people and ancient heritage. Meander through the never ending green fields of Kerry, spin in the majestic beauty of Killarney National Park, and ride a loop to the stunning Cliffs of Moher.
Friuli & Slovenia - Friuli is a little-visited locale. tucked between Slovenia and Austria. Bike through the lush vineyards of Friuli's burgeoning wine country and cross the border into Slovenia, ending in the romantic and charming Ljubljana, a UNESCO World Heritage Site and capital of Slovenia.
"We are the Italy experts, but offer an array of other cycling and photography tours worldwide," said Hefferon. "Like chefs who intuitively know, love and seek out delicious flavors to blend into a succulent dish, we combine an insatiable love of cycling, travel and culture with a rich imagination for creating one-of-a-kind tours."
About Ciclismo Classico: As a specialized "boutique" tour operator since 1988, Ciclismo Classico provides the most authentic, unique and exciting vacations in the adventure travel industry. Its well-crafted educational trips are active immersions into local art, language, music and, of course, cuisine. By combining legendary service and rare cultural experiences, the Ciclismo philosophy continues to energize and transform each and every guest. http://www.ciclismoclassico.com/