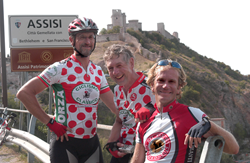 In addition to great weather and incredible scenery, guests will be immersed in the delicious cuisine and local wines.
Arlington, MA (PRWEB) May 20, 2014
Ciclismo Classico, a leading outfitter of cycling vacations around the globe, is excited to announce an array of six-day summer Italy cycling tours. Ranging from leisurely food & wine focused pedals through Tuscany to more challenging routes, tours for all levels of cyclists are available. Ciclismo Classico is offering a $250 per person discount on the "Assaggio Toscana" Tuscany cycling tour happening June 9, 2014 and also on the award-winning "Bike Across Italy" tours happening August 22 and September 19, 2014. For more information on summer cycling tours in Italy or bike tours in Europe, call 1.800.866.7314.
"Nothing compares to biking across Italy in the summertime," said Ciclismo Classico Founder/CEO Lauren Hefferon. "In addition to great weather and incredible scenery, guests will be immersed in the delicious cuisine and local wines."
"Assaggio Toscana" zigzags through the olive groves and stone villas that line Sette Ponti, The Roman Road of Seven Bridges. Guests wind through the sun-drenched Pratomagno range and stop for breaks in picturesque towns peppered with fig trees, vegetable gardens and vineyards. Medieval churches, quaint hamlets, and charming landscapes abound. A highlight of this ride includes visiting an olive oil press to sample Tuscany's exceptional blends.
The coast-to-coast "Bike Across Italy" tour passes through four of Italy's most beautiful regions: Le Marche, Umbria, Lazio and Tuscany, each known for its charming hilltop towns, lush landscapes and unique cuisines. Guests cycle along rivers, stop at the spectacular Grotte di Frasassi, Italy's largest known caves, and through Etruscan settlements.
Another quintessential summer tour is the "Heart of Tuscany" journey on July 13, 2014. From the quaint town of Radda in Chianti to Pienza, Tuscany's cultural wealth and natural beauty is rich and varied. This Tuscany bike tour takes guests on a classic and rustic route that passes through the heart of the Chianti wine region and the UNESCO Site of Val d'Orcia, before concluding in Pienza, one of Tuscany's best-preserved medieval cities.
The September 6, 2014 "Sud Tyrol" tour is a cyclists dream. Travelers of all abilities will enjoy this cultural and scenically diverse tour that glides (mostly downhill) along the Adige/Etsch River Valley and affords stunning views of the Dolomites to the east and the Alps to the west. Guests will enjoy multiple stops in small villages, wine tastings and visits to the historic towns of Glorenza, Bolzano, and Trento.
For more information on summer cycling tours or other Italy bike tours, call 1.800.866.7314.
About Ciclismo Classico:
Join a Ciclismo Classico tour and you'll soon find yourself "Pedaling your Passion," a uniquely "Italian" approach to bicycle travel that embraces La Dolce Vita at every turn and invites you to find your very special passion on every tour. Whether it's soaking in the scenery, learning to make pasta, taking hundreds of photos or learning about Renaissance architecture, you'll re-connect with your own passion with our special native guides who connect you to the culture and landscape like no one else can. At each culture stop, restaurant and lodging owners greet you like family and lavish you with magnificent food and wine. You're immersed in the local culture and always with friends. Ciclismo Classico transforms a European cycling trip into an eye-opening, life-altering adventure you'll never forget. Come ignite Your Passion and pedal with us!