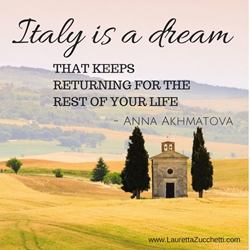 Italy has always been there to embrace, feed, and nurture me. That is exactly how those who join me at this retreat will feel
Mill Valley, CA (PRWEB) May 30, 2014
Author and life coach Lauretta Zucchetti will host a women's wellness retreat in her native Italy this fall. The week-long retreat will offer a range of activities to encourage spiritual growth and foster creative expression. Transcend, Transform, Thrive, Retreat for Women will be in Tuscany, Italy, September 20-27, 2014.
It has been 33 years since Zucchetti moved to California from Italy. She still travels back every year. "For me, Italy holds that heart-melting feeling of being cherished, loved and accepted," said Zucchetti. "Italy has always been there to embrace, feed, and nurture me. That is exactly how those who join me at this retreat will feel."
Zucchetti will lead an intimate group to discover the wondrous awe and beauty of Italy, as well as rediscover themselves. Classes include Hatha Yoga, meditation, music, Italian art, ceramics, cooking, and writing. There will also be walks to nearby castles and forest.
The retreat is ideal for women going through or plan to go through a challenging life transition, such as divorce or an empty nest. "In my work I show women that they possess the innate strengths necessary to see themselves through challenging life transitions."
Women are often pulled in many directions with almost constant demands of their energy and time. There is no space for deeper connection with others or their environment. At the retreat there will be no expectations or demanding schedules. Rather it will be a place for enlightenment, emotional strength, and to achieve higher levels of awareness. The result will be a manifestation of changes women yearn for in their daily lives.
Italy, says Zucchetti, is a place of art and beauty. It has given birth to some of the most illustrious geniuses, the most divine foods, the most inspiring discoveries, the kindest people. By the end of the retreat, the group will have experienced these gifts. They will have bonded, and like Zucchetti, wish to return to Italy whenever they need renewal.
Reserve a spot before May 31, 2015 and save $300: http://www.laurettazucchetti.com/#!retreats/cfvg
About Lauretta Zucchetti, MA
A former international marketing manager for Apple Computer, Lauretta Zucchetti is now a writer, motivational speaker, career, and life coach specializing in coaching women through challenging midlife transitions. She holds a Bachelor's of Arts in Women's Studies at the Vermont Academic Center and a Masters in Transpersonal Psychology from Sofia University.
Her writing has been featured on Thank the Now, Crazy Mommy, SoulFriends, A Band of Women, Literary Mama and The Shriver Report. Her award-winning essay, "Mothering Mothers, and Finding Comfort in the Branches of an Empty Nest," was recently published in the new book, "Nothing But the Truth So Help Me God: 71 Women on Life's Transitions."
In addition to coaching, she is co-founder of Africa Hope Alliance and board member of The Samburu Project. She lives in Northern California where she is working on her memoir, Painted Red, about her childhood in Italy.
More at http://www.laurettazucchetti.com.