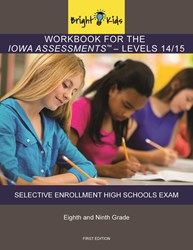 Bright Kids is proud to play a part in helping children succeed when taking the Iowa Assessment and Selective Enrollment High School exam
Chicago, IL (PRWEB) October 02, 2013
The Iowa Assessments look to determine a student's reading, language arts, and mathematical capabilities, and the Bright Kids Workbook helps develop those essential skills. This exam is given for entrance into Selective Enrollment High Schools in Chicago. At Levels 14/15, this exam tests students on a multitude of developmentally-appropriate concepts such as Reading Comprehension, Written Expression, Writing Mechanics, Vocabulary, Mathematics, and Computation. This book includes information about both the Iowa Assessments™ and Selective Enrollment High Schools exam as well as over 300 practice questions covering all sections of the exams. Although this is not a full practice test, answer sheets are provided should the student wish to practice bubbling his/her answers and/or treat each section as timed.
Students taking the Iowa Assessments, which is given both in public and private schools across the country, will be tested on both verbal and quantitative abilities and therefore this book can be used as effective practice before taking the exam.. The Iowa Assessments is a multiple-choice exam. Students are administered the exam in a group, and the test is often administered in sections over a period of days. Depending on the number of subtests administered, the exam takes between four and five hours to complete.
Students taking the exam for 9th grade entry into Selective Enrollment High Schools will be given a shortened version of the exam. Although Chicago Public Schools does not release the name of the test used for entry into a Selective Enrollment High Schools, the skills tested most closely resemble those tested on the Iowa Assessments. Students taking this entrance exam can expect to see questions relating to reading comprehension, vocabulary, critical thinking, spelling, punctuation, capitalization, language arts (grammar), sentence structure (syntax), math problem solving and computation, basic algebraic and geometric concepts, graphs, story problems, and spatial relations, all of which are covered in this book.
The questions in this workbook are designed to be presented in the style of both the Iowa Assessments and Selective Enrollment tests, so that students become accustomed to the format of the exam. These grade levels are combined because the difficulty does not increase.
Bright Kids is proud to play a part in helping children succeed when taking the Iowa Assessments and Selective Enrollment High Schools exam. Their Iowa Assessments/Selective Enrollment High Schools Workbook for Levels 14/15 is available now, just in time for testing season. Order yours today!