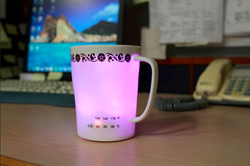 VANCOUVER, Canada (PRWEB) April 06, 2015
The iTOMO-Cup, a new "smart" cup that reminds consumers to drink water every hour with an audible alert system, launched on Kickstarter today. iTOMO-Cup's Kickstarter campaign will run for 30 days and has a funding goal of 80,000 CAD.
One iTOMO-Cup is 69 CAD, however the Early Early Bird reward includes one iTOMO-Cup for 34 CAD and is limited to the first 50 backers of the campaign. Backers can also select the 2 iTOMO-Cups package for 89 CAD or the three iTOMO-Cups package for 129 CAD. Both packages listed are offered at a discounted price to all backers.
When iTOMO-Cup sits untouched for one hour, a beep sound will remind the user to drink water and, consequently, provide its users with amazing short term and long term health benefits. When the iTOMO-Cup is touched, five different LED lights are activated inside the cup.
The suggested daily water intake is about 9-13 glasses, however iTOMO-Cup holds up to 300mL of water. iTOMO-Cup users would only have to drink six cups to meet the recommended daily amount. Drinking water regularly throughout the day has many benefits; it helps maintain the balance of bodily fluids, controls caloric intake, energizes muscles, keeps skin clear and healthy, activates kidney function and promotes healthy digestion.
iTOMO-Cup has a built-in thermometer that displays the beverage's temperature when it is above 40 degrees Celsius, that way users know when it's safe to drink and never burn their mouth. iTOMO-Cup is made from new bone china material which helps maintain the beverage's natural temperature and prevents condensation. iTOMO-Cup is not dishwasher or microwave safe.
For more information about the campaign visit http://bit.ly/iTOMO_CupKS or email itomocupmedia(at)gmail(dot)com.
About Deltron Technology
Our management philosophies consist of innovative technology development and creating high-quality products. We also focus on aggressively raising our position in the technology market with new product developments and making sure all of our user's experience with our product is beyond satisfactory. For more information about Deltron Technology's products please visit http://www.i-to-mo.com/.