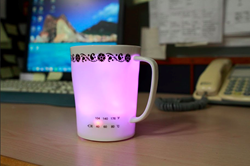 We hope the iTOMO-Cup brings not only better health to its backers, but also a new way of thinking about smart devices.
Vancouver, Canada (PRWEB) February 19, 2015
The iTOMO-Cup, a new "smart" cup that reminds consumers to drink water every hour with an audible alert and vibration system, is coming soon to Kickstarter.
iTOMO-Cup's hourly reminder will help users remember to drink water throughout the day and, consequently, will provide its users with amazing health benefits. Water is an essential part of life, however it is often forgotten about. Drinking water regularly throughout the day has many health benefits; it helps maintain the balance of bodily fluids, controls caloric intake, energizes muscles, keeps skin clear and healthy, activates kidney function and promotes healthy digestion.
The iTOMO-Cup includes a built-in thermometer that displays the beverage's temperature and when it is safe to consume. It also includes a touch lighting system that displays five different LED light colors and a separate low battery light that reminds the user it's time for a change approximately every three months. This cup takes "smart" to a whole new level.
"The iTOMO-Cup is simple to use in your daily life, much like any 'smart' device," said Raymond Chi, an idea creator with Deltron Technology, the company that created iTOMO-Cup and many other smart devices. "Nowadays, a 'smart' device involves a product connecting to a smartphone or tablet, but we believe a real smart device includes anything that's easy to use. We hope the iTOMO-Cup brings not only better health to its backers, but also a new way of thinking about smart devices."
The iTOMO-Cup can hold up to 300mL of liquid and is made of New Bone China material with a double wall structure that prevents pesky condensation and helps slow down the natural change of the beverage's temperature. iTOMO-Cup creators designed this cup to be waterproof, however it is not dishwasher safe or microwave safe because of its battery operated system.
The iTOMO-Cup crowdfunding campaign will run for approximately one month on Kickstarter and will have a funding goal of 80,000 CAD. The unit price of each cup is 79 CAD, but the campaign rewards will offer backers a discounted price.
About Deltron Technology
Our management philosophies consist of innovative technology development and creating high-quality products. We also focus on aggressively raising our position in the technology market with new product developments and making sure all of our user's experience with our product is beyond satisfactory. For more information about Deltron Technology's products please visit http://www.i-to-mo.com/.