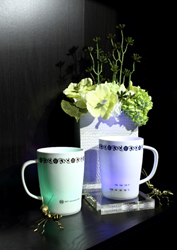 VANCOUVER, Canada (PRWEB) April 15, 2015
The iTOMO-Cup reminds users of all ages to drink water regularly with an audible beep sound. Whether they are in the office, playing outside or hanging out at home, iTOMO-Cup reminds users to stay hydrated. iTOMO-Cup is also kid friendly with its sturdy handle, double wall structure and five different LED lights, making it fun and easy to use.
iTOMO-Cup beeps every hour when left untouched making sure consumers stay well hydrated. However, when the iTOMO-Cup is touched, five different LED lights are activated inside the cup, making this cup fun to use throughout the day.
Drinking water regularly throughout the day has many benefits; it helps maintain the balance of bodily fluids, controls caloric intake, energizes muscles, keeps skin clear and healthy, activates kidney function and promotes healthy digestion.
The suggested daily water intake is 9-13 glasses per day. However, iTOMO-Cup holds up to 300 mL, which means iTOMO-Cup users would only have to drink six cups to meet the recommended daily amount. iTOMO-Cup is made of sturdy new bone china and has a built-in thermometer that displays the beverage's temperature when it is above 40 degrees celsius or 104 degrees Fahrenheit, that way users know when it's safe to drink and won't burn themselves.
iTOMO-Cup is now funding on Kickstarter with an 80,000 CAD funding goal. The campaign will run until Wednesday, May 6. Backers are offered several different rewards including one iTOMO-Cup for 34 CAD which is 50 percent off the future market suggested retail price of 69 CAD. Packages are also offered with two or three iTOMO-Cups at a discounted price.
For more information about the campaign, visit http://bit.ly/iTOMO_CupKS or email itomocupmedia(at)gmail(dot)com.
About Deltron Technology
Our management philosophies consist of innovative technology development and creating high-quality products. We also focus on aggressively raising our position in the technology market with new product developments and making sure all of our user's experience with our product is beyond satisfactory. For more information about Deltron Technology's products please visit http://www.i-to-mo.com/.