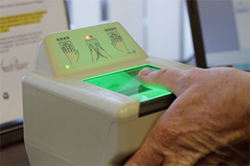 It's three simple steps, collect, capture and submit, and it's just that easy.
Schaumburg, IL (PRWEB) November 03, 2014
iTouch Biometrics has announced Digital Major Case Prints, the company's latest addition to an already comprehensive live scan system, Accurate-ID. Major Case Prints gives departments the ability to digitally capture the standardized collection of friction ridge detail appearing on the palm and extreme sides of the palms as well as the joints, tips, and sides of the fingers.
According to the FBI, Major Case Prints will support the FBI's National Palm Print System, which will facilitate the storage and search of both known and unknown palm prints and enable users to compare latent palm prints left at crime scenes against a centralized national repository, significantly increasing the ability to solve crimes. These prints should be taken of all felony crime suspects and homicide victims. With most departments still using either ink or powder to capture Major Case Prints, iTouch is revolutionizing the process by offering a quick, clean and more accurate solution.
iTouch Biometrics is the first and only company to develop Digital Major Case Prints with the use of its palm scanners and proprietary Accurate-ID software package. The company's president, Gerry Bornhofen, describes the Live Scan software as cutting edge and easy to use giving iTouch a definitive edge over the competition. "The software is written in the fact that it makes it very easy to enter the information. It's three simple steps, collect, capture and submit, and it's just that easy." Illinois law enforcement seems to agree.
iTouch Biometrics recently won the attention of the Illinois State Police, and will be upgrading all of the State Police booking systems with its equipment, cabinets and state of the art software. Located in Schaumburg, IL, iTouch offers law enforcement agencies a complete line of fingerprint and palm print live scan technology that is FBI and State Police certified. For more information about Digital Major Case Prints, Accurate-ID Live Scan software or iTouch Biometrics visit http://www.itouchbiometrics.com.