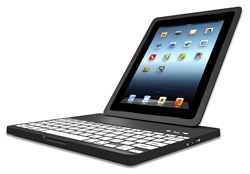 Get an iTrans4mer for iPad and you will not need any covers or cases or stands or mounts or a full-sized keyboard or a large backup battery or mini Speakers.
Cayman Islands (PRWEB) January 30, 2014
What makes this iPad accessory unique? From the outside the iTrans4mer looks like a Keyboard case. But an iPad user who gets the iTrans4mer set of compact accessories may never need to purchase any covers or cases or stands or mounts or a full-sized keyboard or a large backup battery or mini Speakers. This product has it all and even more and the speakers are a 2.1 Stereo System for people who appreciate good quality sound and music.
"It will be hard for anyone to believe that all of this functionality has been worked into one compact design," said Ravish Sony, the inventor of the iTrans4mer. "I myself cannot believe that sometimes. It always reminds me of the small helicopter in the suitcase that James Bond had in one of his movies. Looking at the product from the outside, no one can imagine the hidden capability of the iTrans4mer. And after an iPad owner sees what this product can do, the only question to be asked ask is: Why should I get anything else?"
Rather than seek venture capital or financing from other sources, the designer has chosen to first try to crowd fund this project through Indiegogo. "There are three main reasons for this," said Sony. "First, it may become possible for me to continue to sell the iTrans4mer at a low price even after the initial launch and that way, every one of the 150 million or more iPad owners out there today, who wish to own the iTrans4mer, will be able to do that. Second, I can start production much sooner if I don't have to spend time in looking for investors. Third, I may get some more good ideas and suggestions through my interaction with the supporters to make this product even more amazing."
The iTrans4mer has several Patents approved and several more pending. According to Sony, he will provide the first 2000 supporters the iTrans4mer for only $50 each. The next 2000 supporters can get it for $75 each and then for $100 each for the rest of the supporters through Indiegogo. When it hits the market, the iTrans4mer will retail for around $150 in the US.