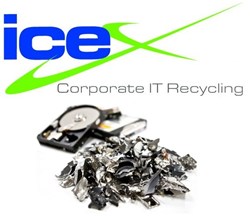 Steve Mellings who heads up ADISA said, "ICEX passed with flying colours."
Witham, Essex (PRWEB UK) 27 November 2013
ICEX are an IT and mobile device (tablet and mobile phone) recycling company firmly focused on providing a totally secure service to businesses in the UK for dealing with the removal of data on such devices and the subsequent recycling of these products.
Using CESG government approved software, all data can be guaranteed to be 100% erased and provides an auditable trail for businesses to prove that there is no possibility of a data breach using our processes. The company holds a number of ISO standards, verified by external auditors, which are in addition to the ADISA forensic audits used to validate the systems employed to keep a client's data safe.
A client's equipment is collected using ICEX's own by satellite tracked vehicles and taken to its secure facility for processing. Once the items have had all their data removed, a full report is provided to the client as proof of any data erasure that has occurred. If a product or drive is damaged and cannot be erased, the item is physically shredded into small pieces at the ICEX location to ensure no data recovery is possible.
Steve Mellings who heads up ADISA said, "ICEX passed with flying colours." Managing Director of ICEX Richard Parker says "ICEX are primarily focused on the security of our client's data and being a member of ADISA is very important. These external audits confirm to us and our client's that our processes are as secure as they can be and it's a credit to the team at ICEX that they achieved this distinction level for the latest audit."
Founded in 2003, the ICEX team have many years of experience in all aspects of secure & sustainable IT, mobile phone, tablet and electrical disposal. Trusted by our broad client base we satisfy all regulatory requirements for the waste electrical (WEEE) directives. Data Security is taken to the highest level and verified through external audits to support our ISO 27001 standard. Our ADISA accredited processes are combined with up to date HMG Security Services CESG standards for secure data removal software, degaussing or granulation with full certification. Being a conscientious team, ICEX prides itself on the care of our clients and the environment and meets all ISO 14001:2004 requirements. In addition we achieve best practice levels and also have the quality mark of ISO 9001:2008.
Launched in October 2010, the Asset Disposal and Information Security Alliance (ADISA) is a group of leading experts in the area of risk management, compliance and data protection within the business process of IT Asset Disposal. The primary ADISA objective is to highlight the IT security risk within the asset disposal process and to work with all parties to help improve service quality, raise professionalism and ensure data is protected by an acceptable sanitisation process. The ADISA IT Asset Disposal Standard is formally recognised by DIPCOG.