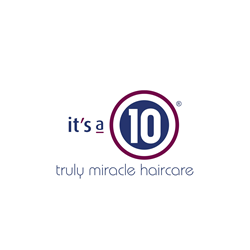 We're thrilled to land this spot during the most-watched sporting event of the year.
New York (PRWEB) January 25, 2017
It's a 10 Haircare, the go-to hair care brand for salon professionals and clients across the globe, has announced that the company's first-ever Super Bowl commercial will air during Super Bowl LI on Sunday, February 5th. Slotted into a coveted spot during this milestone 51st matchup, the ad will take the game's commercial break to the next level.
Owned by renowned hair stylist and entrepreneur Carolyn Aronson, It's a 10 Haircare is the first privately owned, professional hair care company to lock in a prime-time Super Bowl ad spot. Simultaneously, Carolyn and her husband, Jeff Aronson, are the first and only couple to launch two Super Bowl ads independently of one another, for their own respective companies. Jeff Aronson, founder and former CEO of Cash4Gold, aired an infamous Super Bowl commercial for the brand featuring MC Hammer and Ed McMahon in 2009. The spot was one of the Top 10 Most Recalled Super Bowl ads according to Nielsen IAG data, and was described by AdAge as an ad that "will generate, by far, the biggest ROI of the Super Bowl."
The commercial will creatively showcase It's a 10 Haircare's core philosophy and also promote its expansion into the male hair care category. The brand is currently launching the new "He's a 10" Collection, a high-performance grooming line of multi-tasking products offering immediate results.
"We're thrilled to land this spot during the most-watched sporting event of the year," said Carolyn Aronson, Founder and CEO of It's a 10 Haircare. "There is no better way to reach a captive audience of men and women, not to mention their hair stylists and barbers, simultaneously. At It's a 10 Haircare, our products are for all hair types and create instant miracle results, exceeding industry norms and consumer expectations. This commercial will do the same, and we can't wait for the world to see it."
It's a 10 Haircare has enlisted the expertise of Havas Edge and Hungry Man Productions to produce the commercial, a dream team responsible for some of the most memorable Super Bowl ads from companies like GoDaddy, Anheuser-Busch and Cash4Gold. The spot will be directed by Oscar-nominated Bryan Buckley, dubbed the "King of the Super Bowl" by The New York Times.
For media opportunities and interviews requests for Carolyn Aronson, please contact Itsa10(at)5wpr(dot)com
About It's a 10 Haircare:
It's a 10 Haircare is an established, professional hair care line offering exceptional multipurpose products via salons and beauty supply stores worldwide. As one of the only female-owned professional hair care brands in the world, It's a 10 Haircare is dedicated to providing customers with the best hair experience possible. It's a 10 Haircare's collections include exceptional 10-in-1 multi-purpose products perfected and simplified to one unique lineup, providing solutions to all possible hair care needs.