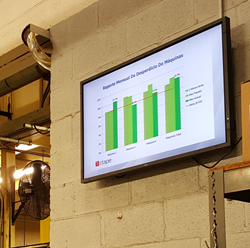 The system shows our teams metrics on their manufacturing progress, products, and material use in real time to keep our output and deliverables on schedule.
CHICAGO, IL (PRWEB) October 08, 2015
Industrial Television Services (ITS) announced that Nekoosa Holdings, Inc. installed its Corporate Communications Display System throughout its 3-building manufacturing facilities. The ITS system displays real-time productivity, materials and KPI metrics to help Nekoosa's manufacturing teams achieve goals. ITS designs, delivers, and supports easy-to-use digital signage solutions that transform the way clients do business. Click here to request information on ITS solutions.
"The information ITS gives our manufacturing teams helps keep them on task and on budget," said Mike Pasquarelli, Nekoosa Holdings, Inc.'s senior systems administrator. Nekoosa is an expanding manufacturing firm with 4 companies and multiple facilities. "We installed ITS' Corporate Communications Display System to visibly communicate production metrics and company information to our manufacturing teams throughout our shop floor areas in 3 buildings. The system shows our teams metrics on their manufacturing progress, products, and material use in real time to keep our output and deliverables on schedule."
ITS designed Nekoosa's corporate display system, customized the software and graphics, and implemented multiple display sites from a central location for flexibility and ease of use. The ITS displays draw data from Nekoosa's central SQL manufacturing database and formats it for clear communication to company staff.
Nekoosa Holdings, Inc. operates RTape, CET Films, Nekoosa Coated Products, and Main Tape. Headquartered in Nekoosa, Wisconsin, Nekoosa Holdings, Inc. is known for 45 years of innovation and more recently for an expanding line of specialty products that include industrial and specialty films, tapes and coatings.
"We use 10 ITS displays throughout 3 buildings and will add 8 more displays in our newest building," Pasquarelli said, "The ITS system has definitely proved its value since we installed it." The system's displayed metrics are automatically updated from our SQL database in real time and controlled by a production manager. In addition to production data, Nekoosa announces company meetings, provides human resources information and other information to its teams.
"It is a pleasure working the Mike and the Nekoosa team," said Scott Triphahn, ITS vice president. "Nekoosa's professionalism and leadership in its fields enabled us to design and deploy a customized solution in a relatively short period of time. The ITS solution we deployed is robust and easily configurable. Most digital signage systems are complex with a fairly steep learning curve. ITS made it fast and simple for Nekoosa to use. We had the in-house expertise to understand Nekoosa's requirements and convert them to effective visual messaging."
About ITS
Industrial Television Services, Inc. (ITS), founded in 1960, designs, engineers, installs and supports complete, real-time digital signage systems and digital vision solutions for a breadth of business sectors, including transportation, travel and hospitality, manufacturing, automotive, trade associations and corporate headquarters . ITS enjoys an excellent reputation and builds on its 55 years' of experience as a specialist in real-time data display and systems integration. The company's professional team includes experienced hardware, software and network engineers, certified system architects, project managers, installation / support / repair / help desk technicians, sales and administrative staff who work together to achieve the highest level of customer satisfaction. ITS works directly with end-users and partners with manufacturers, suppliers, contractors, and other system integrators. ITS' commitment is to provide you with the best products and services through ongoing R&D, intelligent design engineering, disciplined project execution and prompt, effective system support.
About Nekoosa Holdings, Inc.
A Wingate Partners' portfolio company since 2012, Nekoosa Holdings, Inc. was formed in 2013 with long term growth in mind. The partnership of Nekoosa Coated Products, Main Tape, RTape Corp. and CET Films allows each division to deliver excellence individually and create new growth opportunities working as one. Their expertise spans coating, converting and custom plastic extrusion capabilities, with a product offering that includes carbonless papers, specialty synthetics, application tapes, surface protection materials, and extruded films. Nekoosa Holdings, Inc. acquires companies that demonstrate the ability to grow in their markets, expand their current product offering, and provide new or enhanced capabilities. Today their four companies are each trendsetters, innovators and pioneers in their field.