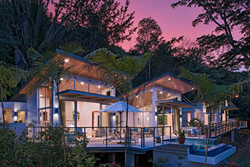 there's still time to plan an unforgettable overseas vacation for less than the price of some domestic holidays
SAN IGNACIO, Belize (PRWEB) June 20, 2019
The Lodge at Chaa Creek's new Belize summer vacation packages are causing a growing number of families and couples to rethink their summer vacation plans, according to the Belizean jungle lodge's reservations manager.
Elsie Pacheco said Chaa Creek's latest additions to its extensive menu of all-inclusive vacation packages have combined with growing word of mouth about the popular Belizean eco-resort's budget friendly Macal River Camp to generate interest in Belizean summer vacations.
"Each year we post our new summer vacation packages three months early to give travellers sufficient time to plan their holidays," Ms Pacheco said.
"This year two things happened. We recently partnered with colleagues at The Ellysian, a boutique seaside resort on Belize's southern Caribbean coast, to offer the 'Belize Breeze,' a new all-inclusive surf and turf style vacation package, just as we finished upgrades to our Macal River Camp.
"The 'Belize Breeze' seems to have struck a chord with travellers, and, following positive social media word of mouth about the Macal River Camp, we're seeing an influx of enquiries; especially from families and couples.
Ms Pacheco said Chaa Creek's new "Belize Breeze" all-inclusive Belize vacation package combines a true jungle lodge experience with a Caribbean seaside holiday - seamlessly and affordably.
"Our infrastructure and close working relationship with the Ellysian allowed us to collaborate on a vacation package that combines the best of Belize's Caribbean and inland attractions, and in such a way that we can pass some significant savings onto our guests," she said.
The "Belize Breeze" includes all accommodations, meals, amenities, activities and transfers between two of Belize's best resorts for one set price, meaning that from pickup to drop off at Belize's International Airport guests have nothing more to pay during a complete Belizean vacation, Ms Pacheco explained.
In western Belize's Cayo District, Chaa Creek's "Belize Breeze" stay includes rainforest cottage accommodation, all breakfasts, lunches and four-course dinners at the Mariposa restaurant, as well as a couples or other massage at the Hilltop Spa. Along with complete access to the resort's 400-acre private nature reserve, guests enjoy guided morning birding and nature walks, tours of the onsite Belize Natural History Museum and Butterfly Farm, culture-meets cuisine cooking lessons at the new "Open Hearth" representational kitchen, an ATV jungle safari, and canoeing, swimming and other activities.
Chaa Creek also provides a full-day tour of the ancient Maya metropolis of Caracol with a visit to the refreshing, picturesque Rio On Pools as part of the package. During transfers, guests can choose a visit to the Belize Zoo or St Herman's Blue Hole National Park on the Hummingbird Highway.
At the Ellysian Boutique Resort on the Placencia Peninsula, guests stay in a Beachfront Studio, with a welcoming cocktail and daily continental breakfasts, with dinners at the Rumfish Y Vino restaurant, Francis Ford Coppala's Turtle Inn, and a sundown beach barbecue highlighted by traditional Garifuna drumming. Activities include a full day of island hopping with swimming and snorkelling, and guests have use of bicycles, kayaks, pedal boats, and stand-up paddleboards throughout their stay. A return flight from the Placencia airstrip to the Belize International Airport is included in the package.
Ms Pacheco said it's hard to imagine a more complete Belizean vacation.
"The Lodge at Chaa Creek is Belize's most highly recognised and awarded eco-resort, having been named Belize's "Hotel of the Year" three times and recognised with first place honours at National Geographic's World Legacy Awards. And the Ellysian's seaside location on the beautiful Placencia Peninsula is making it one of Belize's most sought-after destinations.
"Combine the two, and you have the makings of an unforgettable Belize vacation," she said.
Chaa Creek's Macal River Camp is another summer vacation option that is growing in popularity, she said.
"The Macal River Camp offers an authentic Belizean jungle experience with the casual luxury Chaa Creek is known for. A pleasant fifteen-minute stroll connects the Camp with the Lodge's infinity pool and all amenities, which Camp guests are welcome to use. And with delicious home-cooked breakfasts and dinners included in the price of accommodation, it represents great value and a true back-to-nature experience with serene comfort and security," she said.
Ms Pacheco urged travellers to speak with their travel agents or Chaa Creek's vacation planners directly for more information and to secure bookings.
"Summer's already upon us, but there's still time to plan a complete, satisfying and memorable overseas vacation for less than the price of some domestic holidays,'" she added.
The Lodge at Chaa Creek is a multi-award winning eco resort set within a 400-acre private nature reserve along the banks of the Macal River in Belize. It was recognised by National Geographic with first place honours at the 2017 World Legacy Awards held in Berlin.
ENDS