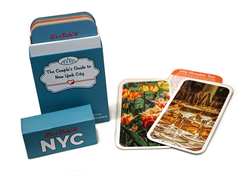 Sometimes you just need that motivation to get up off the couch and have a wild night out on the town. We make it easy to find new experiences together...
New York, New York (PRWEB) January 25, 2017
New company, It's a Date, announces the launch of It's a Date NYC: The Couple's Guide to New York City. A printed city guidebook with a collection of 54 complete date itineraries. In conjunction with their launch, It's a Date will also kick-off "The Great Chocolate Giveaway" for Valentine's Day 2017.
It's a Date NYC melds the advice of a travel guide with the excitement of a big night out. Created by a native New York couple, the guide brings together unique NYC date ideas that are organized into 54 fully planned date itineraries. Unlike a traditional guidebook, It's a Date NYC is printed on a deck of oversized cards. The card format allows couples to simply pick a card, pack it in their pocket or purse and then follow the itinerary for an exciting date adventure. Each of the 54 cards includes activities, restaurants and late-night spots, all grouped together by theme and neighborhood for a well-curated date night or day date. In addition, on the back of each card are artistic photos to entice couples to go out on that date. Readers can look forward to NYC date ideas like a DIY Chocolate Tour, a Hike in the City, a Wine Bar Crawl or even a Beer and Bacon date.
In celebration of the new couple's guide, It's a Date announces "The Great Chocolate Giveaway" for Valentine's Day 2017. The winner of the giveaway will receive a prize that includes boxes of chocolate from several top New York City chocolatiers. Click here for more information.
The guide is designed as a go-to reference for local couples looking for fun things to do on a random day or night. It also serves as a guide for out-of-town couples looking to experience the non-touristy side of New York City. In addition, couples can find dates that match their mood, as the cards are broken down into six categories: Romantic, Fun, Iconic, Foodie, Learn and Outdoorsy. For the couple that is looking to connect on an intimate date, they would grab a romantic card. If the goal is to be more active together, then an outdoorsy card might fit the bill. Or if a couple wants to pick up a new skill together, they can choose one of the learn cards. All these aspects make it an ideal gift for special occasions like Valentine's Day, anniversaries and birthdays.
Many couples enter a cycle of asking each other "what are we going to do tonight?" With the usual blank stares they rely on their fallback plan; the standby restaurant they've been to a thousand times. Other couples know they want to do something exciting and different, but don't want to waste the hours it takes to research, organize and plan a really great date. The founders of It's a Date hope to solve this classic date night dilemma with their new guide.
According to a study from the Social Cognitive Affective Neuroscience Journal, engaging in new experiences as a couple activates the same brain chemistry that occurred during a relationship's early romance period. It's a Date aims to keep the spark in relationships alive by delivering one-of-a-kind date night itineraries. "Sometimes you just need that motivation to get up off the couch and have a wild night out on the town. We make it easy to find new experiences together and to show your significant other that you really care about the relationship." says co-founder Glenn Schwartz.
It's a Date was founded by a husband and wife team, who also happen to be New Yorkers. Inspired by their own frustrations in crafting a different, yet fun, night out, the couple wondered why there wasn't a guidebook tailored toward date night. "After working hard all week, we wanted our nights out to be exciting and not the same old date. But for us, that meant either wasting hours planning or just winging it, which usually ended up being only okay. It seemed like there should be an easier way to plan a night out, something that would ensure a great time and also allowed for a bit of spontaneity. That's what we think It's a Date NYC accomplishes." says co-founder Alison Karmel. The couple took it upon themselves to combine their local knowledge of NYC date ideas with extensive research, cross-referenced with reviews and then visited places to make sure they met expectations. The goal was to make sure that the dates not only worked logistically, but also kept a consistent tone to elevate the date night experience.
For more information and to purchase the It's a Date NYC guide visit itsadatecards.com. The guide will also be available in retail stores and online marketplaces such as Amazon.