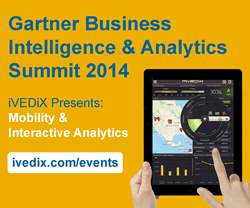 [Gartner Analysts] are really the gatekeepers for the various tech industries, and the BI summit should be no different.
Pittsford, NY (PRWEB) March 18, 2014
iVEDiX will be attending the Gartner Business Intelligence and Analytics Summit in Las Vegas, Nevada, from March 31 to April 2, 2014.
iVEDiX, a premiere business intelligence and mobile development company, will be showcasing miVEDiX, a revolutionary mobile analytics platform. As a sponsor of the event, iVEDiX will be presenting "Mobility and Interactive Analytics," a topic focused on the new, innovative ways that a data ecosystem can be visualized, and turned into an interactive experience that enhances decision making.
Gartner is recognized the world over as a leading technology and IT advisory firm. Gartner analysts are at the top of their fields, and provide thought leadership for various industries to include tech, BI, retail, healthcare, telecom, and entertainment. Gartner summits are viewed by many industry professionals as the most effective melding of analysis, presentation, and unbiased reporting on the state of the technology landscape.
Rajesh Kutty, founder and CEO of iVEDiX, calls Gartner "The brass ring. They are really the gatekeepers for the various tech industries, and the BI summit should be no different. We are looking forward to presenting our ideas on Mobile Business Intelligence and Analytics, but we're also excited to see what Gartner has put together for the attendees, as far as industry specific trends are concerned. It should be an exciting few days."
iVEDiX will address the rising tide of mobile analytics and business intelligence applications, with an emphasis on explaining the importance of visualization and interactivity. Recent trends in the BI community show that mobile interactivity ranks high on users' priority lists for a BI application. In addition, the multitude of BI technology "stacks" has increased the need for a more streamlined approach to integration. iVEDiX will be talking about these issues, and more.
Founded in 2009, iVEDiX offers extensive Big Data, Business Analytics, and Mobile solutions across a wide variety of industries, including healthcare, telecom, retail, and business services. miVEDiX, the company's flagship product, provides users with instant access to both structured and unstructured data from their mobile device, and combines 3D visualizations with sophisticated interface options and real-time updates.
iVEDiX Inc.
iVEDiX is a Business Intelligence (BI) solutions provider with the knowledge to drive efficiencies, empower organizations, and revolutionize mobile analytics through our team of highly skilled practitioners. iVEDiX is a privately held company that serves national and international enterprises, is specialized in serving telecommunications, healthcare, retail and service industries, and is headquartered in Rochester, New York. For more information visit http://www.ivedix.com.