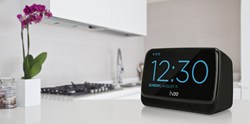 Las Vegas (PRWEB) January 07, 2014
Interactive Voice, a pioneer in voice-controlled electronics, is pleased to announce the company will be exhibiting its newest device, ivee Sleek, at the 2014 International CES in Las Vegas, Jan. 7-10. ivee Sleek is the first hands-free, voice-activated, internet-connected assistant for the home that answers questions, obeys commands and controls other internet-connected devices.
Activated by the simple phrase "hello ivee," ivee Sleek awakens and then waits for a verbal command or question. ivee utilizes the AT&T Speech API powered by the AT&T Watson℠ speech recognition engine, then sends the response on to her own cloud-based intelligence system.
ivee Sleek can understand and answer questions within 33 categories ranging from time and weather to stock prices, radio settings and more. Her light and temperature sensors detect her ambient surroundings, making her smart and aware. And, because her technology is cloud-based, she will continuously grow, becoming more intelligent and more personalized to both her owner and her surroundings.
At CES, ivee Sleek will debut her integration with Iris from Lowe's and Staples Connect via which she has the ability to control internet-connected devices, such as Wi-Fi thermostats, locks, smart plugs, security cameras and more. A beta version of the device was introduced at last year's show.
ivee Sleek will be on display at CES Jan. 7-10, 2014, at South Hall 1 Booth #21638. For media appointments, please contact Heather Hewit at heatherh(at)lotus823(dot)com.
For additional information and to purchase, please visit: http://www.helloivee.com/
About ivee
ivee (Interactive Voice Inc.) was founded in 2011 as a consumer-focused, voice-control electronics company. ivee works at the intersection of artificial intelligence, speech recognition, natural language understanding, and the Internet of Things. Since 2011, ivee has made voice-activated alarm clocks, which can be found at stores like Best Buy, Staples, and Brookstone. For more information about ivee, please visit the company's website at helloivee.com.
Connect with ivee on Facebook at facebook.com/helloivee and on Twitter at twitter.com/helloivee.
Media Contact
Heather Hewit
lotus823
heatherh(at)lotus823(dot)com
732.212.0823