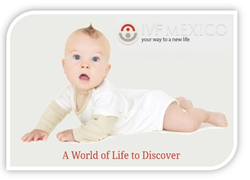 Our exclusive network of fertility clinics in Mexico offers prominent family building programs for singles and couples suffering from infertility— and is working to build, improve and sustain affordable fertility journeys.
Chicago, IL (PRWEB) August 22, 2014
Eagerly embracing intended parents around the globe, Mexico has become a thriving fertility destination, and now offers the top male infertility programs — run by a diverse interdisciplinary team of infertility specialists. The fertility network of IVFinMexico.com continues to shape modern medicine through an overall commitment to world-class reproductive care, female and male infertility, advanced research and education.
No other program lives up to the standards so eminently set by company CEO and Founder Tolga Umar — as the top male infertility programs offered at IVFinMexico.com. "Our exclusive network of fertility clinics in Mexico offers prominent family building programs for singles and couples suffering from infertility — and is working to build, improve and sustain affordable fertility journeys. I am very confident that our male infertility program will help many intended parents overcome their struggles with infertility," stated Mr. Umar.
The network understands the profound impact infertility can have on a couple. With expert care and psychological and emotional support, Mexico has developed into the top destination to explore advanced options of parenthood.
Top Program Excels in Male Infertility —
Men who are struggling from infertility are at an increased risk for several medical conditions. These include testicular cancer, diabetes and thyroid disorders, and conditions related with low testosterone production such as osteoporosis, metabolic syndrome, and heart disease.
"The significance of a comprehensive evaluation of both partners cannot be overrated. Our programs for couples suffering from male infertility are headed by specialists who are regularly reviewing fertility science. Our andrologists, embryologists and reproductive endocrinologists give couples the best chance of overcoming male infertility," stated Gisel Soriano, Lead Patient Coordinator for IVFinMexico.com for the past 5 years. "Our trustworthy fertility network, IVFinMexico.com, is one of the most generous fertility networks in the industry and we're happy to see that it is recognized across the globe."
There are an immense number of complications associated with male infertility — consequently the top male program in Mexico promotes a systematic approach which begins with a detailed history and physical examination, followed by an inclusive laboratory evaluation. Based on these results, a personalized assessment and treatment approach is made for each couple.
Treatment for male infertility varies depending on source — with options including lifestyle changes and medication, drug therapy, assisted reproductive technology including In vitro fertilization (IVF) and microsurgical fertilization, such as intracytoplasmic sperm injection (ICSI), sperm extraction techniques, surgery for obstructions, and sperm donation.
A Unique Fertility Practice in Mexico —
World-class fertility care is enhanced with technical expertise, proven successful outcomes, and the ability to assure each and every couple that the fertility program is meeting their needs. The network of fertility clinics at IVFinMexico.com bring together a world of opportunity for intended parents:

Collaborative, supportive team of professionals that communicates recurrently with the goal of providing the top fertility options.
Valued input from a core of team members who interact with each couple, embryologists who are familiar with the daily developments of the lab, and physicians with years of experience.
Evaluation of all current fertility options, creating realistic expectations, and following an honest and trustworthy course of infertility treatment.
While expert fertility guidance and superior success rates begin with skilled infertility specialists, the IVFinMexico.com network takes infertility treatment one step further — in choosing a treatment plan attention is given to the couple's long term goals and financial limitations.
With over 65 percent of couples coming from the United Stated, IVFinMexico.com is the leading network in the assisted reproductive industry and is continually advancing fertility care. The company also offers FivenMexico.com.mx, for Spanish-speaking intended parents to explore the IVF programs offered by each provider and consultations in both English and Spanish to provide an in-depth understanding of one's journey ahead.
About IVFinMexico.com
IVFinMexico.com is one of the nation's most exclusive network of IVF clinics. The partnered clinics offer a range of infertility treatments, highly competitive success rates, and comprehensive donor programs — with the solitary goal of providing deserving support throughout the process, and coordinating care that is unmatched. Striving to deliver high quality care in the field of infertility and reproductive medicine, IVFinMexico.com offers an environment that is safe, caring and individualized. The company is helping countless couples and singles navigate the complex journey of infertility — explore the exclusive network.