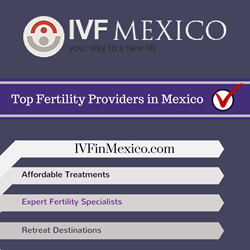 IVFinMexico.com has focused exclusively on the quantifiable exploration of fertility modernization.
New York, NY (PRWEB) February 26, 2015
Today, IVFinMexico.com released its list of the top fertility providers in Mexico. Mexico has become the most sought after fertility destination — specifically for US and Canadian intended parents.
The list highlights fertility clinics that are making significant progresses in sustainable in vitro fertilization (IVF) programs, affordable infertility treatment, advanced measures in reproductive medicine, and all — proving to be an important benchmark in the transformation of the fertility industry.
"Every fertility journey is in essence a story about real individuals," stated executives at the LIV Fertility Center in Puerto Vallarta. "We are honored to be recognized on the list of top five fertility providers in Mexico. We are contributing significantly to the field of modern medicine and helping couples attain their dreams of parenthood with an extraordinarily talented and dedicated team of specialists."
Top Fertility Providers in Mexico —
While the term innovation has become excessively overused and misrepresented in the medical field — it's easy to lose sight of what truly defines innovation. IVFinMexico.com has focused exclusively on the quantifiable exploration of fertility modernization and identifying not only what providers are developing for treatment, but also how aggressively they are successfully implementing those treatments today.
Top Fertility Providers in Mexico:

LIV Fertility Center in Puerto Vallarta
Tijuana Infertility Clinic
Irega Cancun
BioFertility Center in Guadalajara
Insemer in Mexico City
Cementing their presence on the list, the iconic LIV Fertility Center represents an absolute vanguard of innovation — exploring new breakthroughs in fertility medicine and women's healthcare. LIV is a renowned, world-class fertility center that embraces affordability, technical expertise, proven successful outcomes, and the ability to exceed the challenges for every individual case of infertility. The LIV team is continually striving to implement new infertility technologies and a management structure to embrace patients on their journey to parenthood.
Affordable IVF Costs in Mexico —
Parents-to-be are faced with the daunting costs of infertility treatment. An IVF cycle in the US carries a price tag of USD $10K-15K, with an additional USD $3K-7K for fertility medications — and these numbers can be considerably higher in certain circumstances. In Canada, the typical cost of an IVF cycle before medications is USD $7K. These staggering costs do not include the fees for intended parents who are using donor eggs or sperm, nor the uncertainty in respects to how many treatments it will take to conceive a successful pregnancy.
Fertility clinics in Mexico have worked diligently to remove the cost barrier — allowing intended parents to focus on the future rather than financial concerns. The fertility specialists in Mexico are committed to offering intended parents the most affordable solutions that deliver high pregnancy success rates, all while containing both fertility drug and total medical costs.
The LIV Fertility Center in Puerto Vallarta is offering intended parents all-inclusive IVF packages to undermine the overwhelming costs. Program packages range from USD$9K-11K — comprising of hotel accommodations, medications, IVF/ICSI treatment cycle, and an exclusive IVF-FET (In Vitro Fertilization + Frozen Embryo Transfer) warranty.
About IVFinMexico.com
IVFinMexico.com is one of the nation's most exclusive network of IVF clinics. The partnered clinics offer a range of infertility treatments, highly competitive success rates, and comprehensive donor programs — with the solitary goal of providing deserving support throughout the process, and coordinating care that is unmatched. Striving to deliver high quality care in the field of infertility and reproductive medicine, IVFinMexico.com offers an environment that is safe, caring and individualized. The company is helping countless couples and singles navigate the complex journey of infertility — explore the exclusive network.