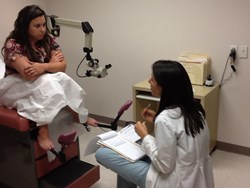 Routine Screening is always ideal, for preventive health.
Houston, TX (PRWEB) January 17, 2014
January is Cervical Cancer Awareness Month and the Advanced Fertility Center of Texas will help to spread awareness by offering screening for cervical cancer.
The Advanced Fertility Center of Texas will offer routine cervical cancer screenings throughout the month of January. Approximately 20 million American women carry Human Papilloma Virus (HPV), which predisposes them to cervical cancer. AFCT encourages women to get their annual well-care, which includes testing for (HPV).
Mary Turner, MS, WHNP, is the women's health nurse practitioner at AFCT who will help provide the cervical cancer screenings. Turner has built strong relationships with her patients over her 11 years at AFCT and urges all women to come in for annual screenings. Without regular screenings, HPV and many other conditions are never detected and lead to more serious complications.
Appointments can be made at AFCT by calling 713-467-4488, ext. 40, or by emailing info@afctexas.com. Appointments are available from 8 a.m. to 5 p.m. Monday through Friday.
AFCT specializes in identifying and treating complex woman's disorders as well as infertility and offers a wide range of cutting-edge and comprehensive services. AFCT has four centers in the Houston metropolitan area, including the Texas Medical Center in Houston. Find out more by visiting http://www.infertilityanswers.com.
About the center:
Advanced Fertility Center of Texas has several fertility treatment centers located throughout the Houston metropolitan area. They offer the most comprehensive, cutting-edge fertility services available. They assist couples and individuals in experiencing the joy of parenthood, by providing the entire range of fertility services on-site, including artificial insemination, injectable gonadotropins, in vitro fertilization treatment. They have a successful minimal stimulation IVF for poor ovarian reserve patients, egg freezing, egg donor program, fertility preservation and surrogacy. For more information, please visit their website at http://www.infertilityanswers.com.