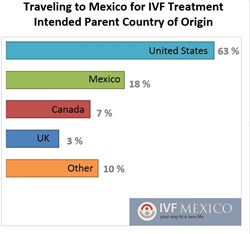 By creating this widespread network, we have found a way to channel affordability by doing something different — a cost-effective intervention in the fertility industry.
Los Angeles, CA (PRWEB) February 05, 2014
Committed to helping individuals achieve success in their battle against infertility, IVFinMexico.com, has developed a network of successful fertility specialists that offer affordable treatments, including IVF, egg donation, ICSI, and surrogacy.
The decision to start a family is life-changing, full of anticipation and dreams. As part of its all-inclusive blueprint, IVFinMexico.com offers IVF procedures that are within your means, and with the growing availability of infertility options, fertility solutions in Mexico are more affordable than ever before.
The clinical network works closely with intended parents to determine the fertility treatment plan that will have the highest likelihood of a successful pregnancy, while also taking into consideration the investment of one's time and expenditures. IVFinMexico.com is committed to helping all intended parents, including gay couples who desire the chance to have children.
Embracing Advancements in Mexico
After examining opposite ends of the world and cultures, thoroughly understanding the hurdles individuals face, and devoting themselves to change, IVFinMexico.com has collaborated with infertility clinics in—Cancun, Guadalajara, Tijuana, and Mexico City—in a way that is doing as much to change the face of infertility and the high costs associated with it.
"It's the ultimate miracle of medicine," stated Tolga Umar, CEO and Founder of IVFinMexico.com. "By creating this widespread network, we have found a way to channel affordability by doing something different — a cost-effective intervention in the fertility industry."
With the networks four metropolis locations, Mexico is making a strong bid for the most affordable destination to build a family.
While the focal desirability comes from the economically measurable gains afforded by traveling to Mexico, IVFinMexico.com has seen a staggering increase due to its astonishing modern advancements in IVF treatments, such as IVF with ICSI, gender selection, egg donation, natural cycle IVF, IUI, PGD, MicroSort and Surrogacy.
With over 63 percent of couples traveling for IVF in Mexico coming from the United States, the company also provides family building options for individuals from Canada, the United Kingdom, Spain, Australia, and Mexico, among others.
The Depths of Infertility Medicine
When most intended parents think of in vitro fertilization, they adopt a facade that it is not affordable for the average American. It stirs doubt—it creates stress and it impacts individuals beyond a financial comparison.
The IVFinMexico.com network is at the center of successful fertility relationships and is recognized for its tributary element—trust. Building trust takes time, and as a reproductive medicine advocate, a strong rapport improves their ability to provide individuals the best care.
"The best part of my job is helping couples to become pregnant. Mexico not only offers affordable prices and great medical services, but the attention and technology patients find in Mexico makes it a unique journey," stated Gisel Soriano, Lead Patient Coordinator for IVFinMexico.com for the past 5 years. "Satisfaction is of the utmost importance, and at the completion of treatment we want intended parents to feel that we have given them every opportunity possible to pursue their dream of building a family."
IVFinMexico.com is passionate about educating couples and singles on the fertility treatment process and making sure individuals understand all of their family building options. The company also offers FivenMexico.com.mx, for Spanish-speaking intended parents to explore the IVF programs offered by each provider. All consultations are conducted in both English and Spanish to provide an in-depth understanding of the journey ahead.
About IVFinMexico.com
IVFinMexico.com is one of the nation's most exclusive network of IVF clinics. The partnered clinics offer a range of infertility treatments, highly competitive success rates, and comprehensive donor programs — with the solitary goal of providing deserving support throughout the process, and coordinating care that is unmatched. Striving to deliver high quality care in the field of infertility and reproductive medicine, IVFinMexico.com offers an environment that is safe, caring and individualized. The company is helping countless couples and singles navigate the complex journey of infertility — explore the exclusive network.