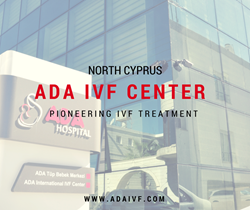 We are the leading IVF center in Cyprus. We adhere to the values that Ada IVF stands for by providing pioneering fertility services to our patients...
Los Angeles, CA (PRWEB) February 04, 2015
The Ada IVF Center in North Cyprus is acclaimed for compassion, trustworthiness, expertise and world-class reproductive care. Today, the center has announced a pioneering In-Vitro Fertilization (IVF) program, adding to its successful non-sharing egg donor and innovative gender selection programs.
Led by Dr. Verda Tunçbilek, the team of fertility experts at Ada IVF provides patients with the highest level of personalized care — devoted to the diagnosis and treatment of female and male infertility.
International Patient Coordinator with Ada IVF Center Cyprus, Amy Saracoglu, in a recent interview stated, "We are the leading IVF center in Cyprus. We adhere to the values that Ada IVF stands for by providing pioneering fertility services to our patients, embraced by modern conveniences and comfort that intended parents need during their journey to parenthood. Patient gratification is at the core of everything Ada stands for."
Pioneering IVF Treatment —
Ada IVF Center Cyprus not only recognizes that fertility treatment can be an expensive matter, but provides exceptional opportunities for future parents to access pioneering, cost effective IVF programs — further elevating the company to the top of the fertility industry.
The center's IVF doctors have created a bridge between modernism and reproductive innovation — between fertility tradition and pioneering progression. The team has provided significant and ground-breaking contributions to improving fertility medicine and uncompromising IVF success rates.
By combining the latest laboratory advancements in North Cyprus with the most comprehensive embryo screening methods, the company surrounds intended parents with the most comprehensive scope of treatment success.
Fertility Expertise in North Cyprus —
The fertility specialists at Ada IVF Center are internationally recognized for their extensive training and unequivocal devotion to leading the fertility industry in research and up-to-the-minute technology.
"We are truly proud to offer affordable, revolutionary IVF treatment and be recognized as a leader in the field of reproductive medicine. Our ongoing commitment to providing innovative and result-based fertility care is giving intended parents around the globe courage and confidence," stated Lyndsay Cameron, International Patient Coordinator at Ada IVF Center. "Our vision is to create a compassionate and energizing environment where the IVF experience is not only successful but also memorable."
With innovative treatments, the center continues to build a strong foundation for continued growth. The unparalleled medical expertise and scientific investment has led to a significant increase in IVF success, making Ada IVF Center one of the most successful fertility programs in the world.
About Ada IVF Center
Led by expert fertility specialist, Dr. Verda Tunçbilek, Ada IVF Center Cyprus is an extensive IVF center located in the Turkish Republic of Northern Cyprus — with a predominant focus on patient satisfaction and happiness. In addition to the conventional method of in vitro fertilization (IVF) treatment, Ada IVF also provides donation treatments — egg donation, sperm donation and embryo donation — along with gender selection for family balancing which is carried out during Preimplantation Genetic Diagnosis (PGD) treatment. With a profound commitment to provide technology in a private and personal environment, Ada IVF specialists encourage intended parents to hold on to their dreams of building a family.