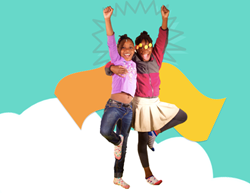 "Practicing mindfulness is a tool available to each person, regardless of their economic and personal circumstances, and research shows it can help reduce challenging problems from stress to violence." -Ivy Child Board Member & Mayor of Fitchburg Lisa Wong
Worcester, MA (PRWEB) March 27, 2014
The debut Mindful Kids Yogathon will be held at the Boys & Girls Club of Worcester from 9am-5pm at their beautiful facility on 65 Tainter Street, and is open to kids and the "young at heart, mind and spirit".
Through multicultural programs and workshops throughout the day, participants will have a chance to learn different yoga styles through a 'YOGA-DVENTURE AROUND THE WORLD." Featured fun also includes cultural entertainment, food, vendor tables, and interactive sessions from all seven continents of the world.
The event will feature world-renowned leaders in yoga and mindfulness such as Debbie Cohen, Founder of Core Yoga (Boston), Harvard University's leading yoga instructor and the force that brought yoga into Boston Public Schools. She has also taught Positive Psychology with Tal-Ben Shahar at Harvard University and at Kripalu Yoga Center; John de Kadt, a world percussionist, poet, and storyteller, who specializes in the fusion of inspirational poetry drumming with yoga, song, and dance; Shawn Shaw, Founder of the award-winning, Metrowest Yoga (Central Mass) studio and creator of the 'Myoga Hot Hatha' yoga style; Eve Costarelli Founder of Always Be Dancing, professional performer, instructor and choreographer who specializes in teaching flamenco, tap and yoga to children and youth; Jothi Raghavan, creative, certified yoga instructor and Artistic Director of the Nrithyanjali School of Dance. The Event Chair for the Yogathon is Fitchburg Mayor, Lisa Wong, who also serves as an Ivy Child International Board Member.
"Practicing mindfulness is a tool that is available to each person, regardless of their economic and personal circumstances, and research shows that it can help reduce challenging problems from stress to violence," said Mayor Wong. "The Yogathon is meant to introduce and reaffirm mindful principles to children and families, and raise awareness in our communities about the benefits of raising mindful children."
This is the main event in Ivy Child International's Children Helping Children Campaign, aimed at educating and encouraging children to support their peers and other children in need who may not have the same opportunities or access to Ivy Child's mindfulness-based learning programs.
Children and youth participants can raise money through our "Sponsor a Pose" initiative. We also invite all other individuals, businesses, companies, and organizations to support our campaign by becoming an Event Sponsor, In-Kind Sponsor or an Event Vendor. All event and campaign proceeds will directly support children and youth through Ivy Child's mindfulness-based, health education programs, actualizing the organization's mission of helping every child achieve their best.
Ivy Child's objective for the Yogathon is to educate, motivate and empower children to discover their inner superhero! Children and youth who participate will learn about the benefits of yoga and mindfulness in coping with daily life challenges and enacting positive social change. The long-term goals of the annual event are to raise awareness across New England communities about the benefits and importance of yoga and mindfulness in combating violence, developing constructive outlets for stress, and building healthy habits for life. Pre-register today to secure your spot at the Kids Yogathon! For more information, please contact Shan Koay at skoay(at)ivychild(dot)org.
About Ivy Child International: (Ivy Child) is a non-profit organization working to enhance the social and emotional well-being of children worldwide by recognizing their multicultural needs, and using education rooted in positive psychology as a uniting force to inspire resilience and leadership. Ivy Child develops innovative programming for hospitals, healthcare centers and schools, which feature yoga, mindfulness, meditation, music and art. Learn more about SUPPORTING Ivy Child's work here.