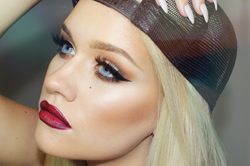 "Make others realize that they are kickass as they are" - Samantha Batalashbeauty
new york (PRWEB) September 02, 2014
Batalash is the baddest team in beauty. Samantha, Angela, Jkissa, and Dominique have a rare combination of beauty and edge that gives their videos that special something that makes you want to watch more. They're "advocates for showing what new images of beauty can be – think colored eyebrows and ombre lips".
Samantha granted IWantThatLook.com an exclusive interview in which she opens up about her thoughts and feelings on beauty, makeup and life. Samantha just calls it like she sees it. She's straight up, swears when needed and is one of those cool people that doesn't need to apologize for what she says because she always keeps it real. She says her mission is, "to make others realize that they are kickass as they are." Beauty doesn't get any cooler than that. She's a beautiful mashup of Hip-Hop and Daenerys Targaryen from Game of Thrones. IWantThatLook.com plans to interview the rest of the Batalash team shortly. They make videos both together and separately which gives them unique diversity and the ability to show a really wide variety of looks and tips.
IWantThatLook.com simplifies the search process by curating thousands of makeup tutorials and providing innovative filters like skin tone, style, colors, and makeup intensity. It allows users to narrow down the results of their search and see only the videos that matter to them. The site also has an innovative beauty guru search and exploration page with over 15,000 beauty gurus, as well as regular interviews with youtube makeup tutorial stars. IWantThatLook takes out the hassle of sifting through makeup tutorials and brings fun back into the process.