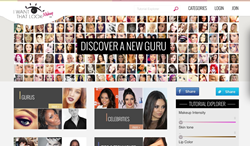 Brooklyn, NY (PRWEB) January 30, 2015
Now that YouTube has started marketing its most popular content creators, the biggest beauty gurus online have become household names. Michelle Phan launched her own brand of makeup and is on billboards across the country. Bethany Mota showed the country her moves on Dancing With The Stars. However, it's often not the biggest stars that reflect what's really trending in beauty, but those that are growing the fastest. IWantThatLook.com, a website that simplifies the search for makeup tutorials and beauty gurus, has announced a monthly ranking of the 10 fastest growing gurus on Youtube.
IWantThatLook.com's ranking of the top 10 fastest growing beauty gurus on YouTube, reveals group of beauty gurus that are not yet household names, but have viral growth of up to 10x in a year. The appearance of two men on this months list reflects the increasing relevance of men in makeup. Manny Gutierrez (MannyMua733) may be the Wayne Goss of the next generation. Manny, who exploded to 138,000 from 64,000 in only one month, is already a major presence on instagram with over 200,000 followers. He does stunning makeup and a has confident and yet humble demeanor. Kathleen Fuentes (Kathleenlights), with over 500,000 subscribers, has the most subscribers in the top 10 and is the only guru to make the top 10 multiple months in a row.
1. Mannymua733.........1027%
2. lilpumpkinpie05.........776%
3. danimansutti..............652%
4. stephilalalange..........402%
5. alexandrasgirlytalk....397%
6. theepatrickstarrr........395%
7. heidihamoud.............388%
8. beautyfulfilled............305%
9. kathleenlights............303%
10. jenerationdiy...........300%
More detailed statistics are available on IWantThatLook.com.
IWantThatLook.com is the ultimate new platform for discovering the web's best beauty gurus, makeup tutorials and tips quickly and efficiently. The site's video search engine allows you to use filters like makeup intensity, skin tone and colors to find the look that you want without having to aimlessly wander around YouTube. The site adds 1000 new videos a week and has over 15,000 beauty gurus on the platform. IWantThatLook.com also publishes weekly spotlights on some of the most popular and fastest growing beauty gurus. The company tracks YouTube beauty guru data and has a unique perspective of which beauty gurus are having the greatest impact.