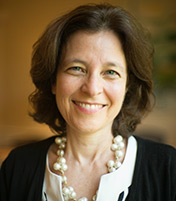 New York, NY (PRWEB) August 10, 2017
i(x) investments, a multi-strategy social impact investment firm, today announces the appointment of Sarah Bloom Raskin to its Board of Directors. From March 2014 through January 2017, Ms. Raskin served as the Deputy Secretary of the U.S. Department of the Treasury. In addition to the broad range of policy, operational and organizational functions she oversaw and directed as second-in-command at the Treasury Department, Ms. Raskin focused on bolstering the country's critical financial infrastructures, creating the conditions for fostering inclusive economic growth and prosperity, and establishing consumer safeguards in the financial marketplace.
 
"Sarah Bloom Raskin is an excellent addition to our board of directors. Her guidance will be essential as i(x) builds the world's first institutional scale permanently capitalized, multi-strategy, impact investing platform. Our investors believe in the power of capitalism to create positive social change and her leadership in the next phase of our growth will help us achieve our goals," said Trevor Neilson, i(x) co–founder and CEO.
 
Prior to serving as Deputy Secretary, Ms. Raskin served as a Governor of the Federal Reserve Board, where she conducted the nation's monetary policy as a member of the Federal Open Market Committee. In addition, Ms. Raskin also previously served as Commissioner of Financial Regulation for the State of Maryland from 2007 to 2010, where she and her agency were responsible for regulating Maryland's financial institutions during the height of the Great Recession.
 
"The great challenge of our time is harnessing the power of markets and economic growth to address the social and environmental problems of humanity. I am very excited about joining the board of i(x), a company that is devoted to unleashing the force of capital markets to make sure that social, economic, and environmental progress will be the baseline return on our investments," said Raskin.
 
With the appointment of Ms. Raskin, the i(x) investments board will consist of five members, including: Trevor Neilson, Todd Morley, Dave Sams, and William Eimicke.
 
About i(x) investments
Founded in 2015, i(x) investments is a permanently capitalized holding company for investors who want to create long-term economic growth in combination with positive, measurable social impact. i(x) believes the world's biggest problems are also the biggest market opportunities, and invests in the areas of energy, water, food, technology, education, health, housing, access to capital and gender parity. The company uses a multi-strategy investment approach throughout the entire capital structure.