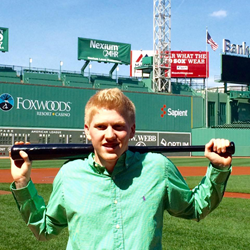 Izenda is committed to encouraging students like Logan to study BI and explore ways to make better data driven decisions using analytics. We were excited by Logan's project and look forward to seeing the continued impact he will have in Major League Baseb
ATLANTA, GA (PRWEB) June 07, 2016
Izenda Inc. announced today that UConn graduate Logan Bement won the 2015-2016 Izenda Embedded BI and Analytics Scholarship.
Logan, a Kennebunk, Maine native, submitted a project he created for the Boston Red Sox marketing department for its fan appreciation club. He'll receive a $1,000 scholarship for his winning entry.
Logan's experience with the Red Sox, the UConn baseball team and his collegiate work prepared him for the next step in his career. This summer he'll work for the Detroit Tigers as a data analyst for its first year baseball team.
Logan's interest in baseball began early when he played as a kid. His "career" ended after playing shortstop and third base during high school.
He developed an interest in analytics during his first summer working for the Red Sox. The marketing major saw possibilities beyond what the marketing team was doing. So he started working on his own projects at home. Using proprietary and public data, he showed the Red Sox more ways to use data to assess the fan club loyalty program. He submitted his data project on the team's Kid Nation fan club for his scholarship entry.
Flush with his success at Fenway Park, he added analytics to his studies after his first summer with the Red Sox. He also worked with the UConn baseball team.
His experience and a bachelor's degree in marketing got him the job with a Detroit Tigers minor league affiliate. After Major League Baseball holds its First Year Players Draft on June 9, the Connecticut Tigers will start its season.
Logan will be there. He'll analyze the Trackman Baseball data gathered through a proprietary 3D Doppler radar system. He'll break down every pitch, working with players to improve their skills. Trackman measures the location, trajectory and spin rate of pitched and batted balls. It provides real-time feedback for coaching and statistics for analyzing player performance. Logan will help deliver the raw data into workable, actionable visualizations to make adjustments on the field.
Logan learned data and analytics lessons before graduation that he'll use in his career:
· Every dataset that you work with is "dirty" so you always have to clean it up and practice good data hygiene.
· Convert data to a form that is digestible for clients and third parties using business intelligence tools and visualizations.
· Analytics tools are the best way to get data into a readable, actionable form, whether it's in a report or a dashboard.
· Don't get stuck in a certain mindset during a project. That forces you to start over if your belief isn't confirmed. Think outside of the box.
He advises fellow graduates and UConn students to stay hungry and keep learning. That's no different than baseball players who train even during the off season and learn new skills.
Baseball fans can name their heroes in the game, and Logan can do the same thing for his heroes in sports analytics. Ryan Sleeper creates data visualizations at a consulting firm. A portfolio of his work online includes a data visualization that compares your salary with those of baseball players.
Mike Petriello, (@mike_petriello) a senior analyst for Major League Baseball, records podcasts that break data down to concise, easily explainable points. Logan will work with the same sports data as Petriello this summer.
Logan met sports data analyst Dash Davidson when he gave him a tour of Fenway Park. The analyst travels to different team offices to get their analytics interfaces running. Logan said Davidson inspires him because he's only a few years older and has reached a point farther along his own career goals.
This is the first time that Izenda has offered the Embedded BI and analytics scholarship. "Izenda is committed to encouraging students like Logan to study BI and explore ways to make better data driven decisions using analytics. We were excited by Logan's project and look forward to seeing the continued impact he will have in Major League Baseball. We are continuing the scholarship program this year and look forward to seeing the new submissions."
Izenda continues its search for students who plan to pursue a career involving business intelligence and data analytics with the 2016-2017 Izenda Embedded BI & Analytics Scholarship. Interested undergraduate and graduate students currently enrolled in an accredited U.S. college or university can learn more and apply online.
About lzenda
Izenda builds its self-service business intelligence platform for independent software vendors, solutions providers and enterprise users. Izenda embeds seamlessly in applications to deliver BI directly to the people who need it most. Our integrated BI platform allows end users to easily analyze, visualize, and share valuable data and insights in real time. More than 10,000 organizations use Izenda's embedded BI and analytics platform on a daily basis. To find out more about Izenda's platform, visit https://www.Izenda.com.