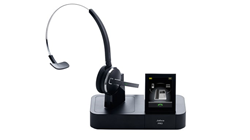 Jabra is a widely recognized manufacturer of business-ready headsets.
Milwaukee, WI (PRWEB) July 30, 2014
IP Phone Warehouse is excited to announce its reenergized partnership with Jabra. This leading online reseller is a part of Jabra's brand new WIN Partner Program, giving IP Phone Warehouse exclusive access to customer-centric resources.
Jabra headsets are ready for offices and call centers, with a huge selection available to suit any need. They offer features including noise cancellation, different connector types and many wearable styles.
Through the Jabra WIN program, IP Phone Warehouse can build its knowledge base and better serve its business customers' headset and communications requirements. The wide selection of headsets available to businesses and organizations can be overwhelming.
One popular headset is the Jabra PRO 9470 wireless headset. This headset lets the user seamlessly transition between a desk phone or softphone and a mobile device. Having multiple connector types is a feature that's ideal for an ever changing, work-technology environment.
Jabra PRO 9470 features:

USB and direct connect ports on base
DECT and Bluetooth interfaces on headset
Convertible wearable style
Monaural earpiece
Noise cancelling microphone
This headset's base also lets up to four likewise headsets conference together, ideal for training or supervisory purposes without a Y-cable. The headset is certified for use with Avaya, Cisco and Microsoft solutions, among many other uses.
For more standard users, the award-winning Jabra BIZ 2300 QD Mono headset is the way to go. This headset is ideally suited for call center agents or regular office use. The quick disconnect cable is interoperable with adapters, letting users plug the headset into nearly any telephony source, including desk phones and computers.
Jabra BIZ 2300 QD Mono features:
Quick disconnect cable
Wideband, HD audio
Noise cancellation
Monaural design
Jabra is a widely recognized manufacturer of business-ready headsets. See the full selection of Jabra headsets here: http://www.ipphone-warehouse.com/Jabra-s/1104.htm. The WIN Partner Program will bring more benefits to customers seeking high-quality headsets, including the Jabra PRO 9470 and BIZ 2300.
To learn more about Jabra, the WIN program or Jabra headsets, contact IP Phone Warehouse through email at service(at)ipphone-warehouse(dot)com, or call (888) 201-9056.
About IP Phone Warehouse
IP Phone Warehouse is the leading specialty reseller of VoIP phones, video conferencing equipment and network devices. We're stocked with everything that small businesses and enterprises need to deploy reliable VoIP and video solutions. A dedicated customer service team and a wide range of available online resources support every product at IP Phone Warehouse.