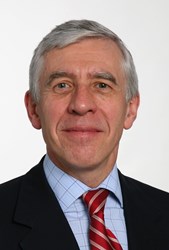 Mr Straw has been a long-time advocate of compensation reform
(PRWEB UK) 2 December 2013
On Friday 6th December 2013 former Home Secretary and Minister of Justice Jack Straw MP will address the conference on issues surrounding compensation claims titled, '2014: The Challenges Ahead'. The conference organised by Forbes Solicitors, Aon and RMP is a follow up to a 2011 conference, 'Tackling Compensation Culture' at which the MP for Blackburn spoke. Mr Straw will discuss the contribution he has made to bringing about reform of compensation claims law, the impact of recent reforms and the further steps he believes are needed.
The review of civil litigation procedure in England and Wales by Lord Justice Jackson was commissioned by the previous Labour government and presented to Jack Straw MP when he was Lord Chancellor in January 2010. Recommendations from this review were enacted by the current coalition government in the Legal Aid, Sentencing and Punishment of Offenders Act 2012 (LASPO Act) which came into force on 1 April 2013.
The reforms have ushered in a 'period of unprecedented change' to how compensation claims are handled, which has had large implications on both the legal and insurance sectors. Mr Straw has been a long-time advocate of compensation reform and has been highly involved both as a government minister and MP in tackling the UK's 'compensation culture'.
The changes to the legislation ended the payment of referral fees by solicitors to third party claims management companies which Mr Straw has described as a 'scandal' in order to stop 'ambulance chasing' practices. It also limited success fees to no more than 25% of damages which challenged the common practice of law firms offering claimants '100% compensation'. The new legislation also precipitated a government consultation on measures to address the number and costs of whiplash claims, which is likely to hasten further reform of the sector. Mr Straw has been heavily involved in the issue of whiplash claims and "postcode discrimination" in motor insurance premiums.
The event is part of an annual series that have been run by Forbes Solicitors in partnership with Aon and Risk Management Partners (RMP) on the topic of compensation claims. Aon is the leading provider of risk management services, insurance and reinsurance brokerage and a global leader in human capital and management consulting, RMP are a risk management firm, who in partnership with Third Party Administrator Gallagher Bassett service the public sector.
Aside from Mr Straw's presentation the conference will also feature talks from the organising firms. Andy Sewell, Claims Controller at Gallagher Bassett will speak on changes made to the Claims Portal used for processing claims. Dr Simon Johnson, Environmental Consultant with Aon will address the conference on environmental risk. Kella Bowers of Forbes Solicitors and Phil Farrar, National Development Director at RMP will speak on pertinent legal and insurance issues relating to Social Service claims and David Yates of Forbes Solicitors will talk on the subject of claims resulting from bullying in the workplace.
The event is free of charge and will start at 9.30 am and run until 1 pm at Manchester Town Hall with coffee and lunch provided free of charge. Attendees will need to complete a registration form beforehand, which can be found at the Forbes Solicitors site here. This is expected to be a popular event, which in case of oversubscription could mean attendees from the same organisation may be limited.
For more information on the event, including a full itinerary and to register please visits the Forbes Solicitors site.
Additional information will also be available via the firms twitter feed @ForbesSolicitor.
Forbes Solicitors are a leading solicitors firm with offices in Blackburn, Leeds, Manchester and Preston. They regularly hold legal events for businesses and interested parties throughout the North of England on various legal topics.
Aimee Horgan-Briggs
Forbes Solicitors
01254 222 394
aimee.horgan-briggs(at)forbessolicitors(dot)co(dot)uk