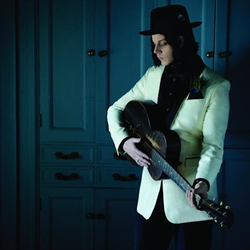 (PRWEB) April 10, 2014
Detroit-native, Jack White, found his start in the music industry in 1997 with his then wife, Meg White. The couple formed The White Stripes, a two-piece rock band that took a surprisingly firm hold on the mainstream world. Despite an amicable divorce in 2000, the pair went on to produce hits such as "Fell in Love With a Girl", "Seven Nation Army," and "Icky Thump." The two described themselves as siblings in many early interviews because siblings are "mated for life," signifying that they weren't going to let their personal relationship distract from their professional one.
Between album breaks with The White Stripes, Jack White helped form The Raconteurs in 2005, which boasted the number 1 hit single "Steady, As She Goes." The band produced two albums over a span of three years, the latter of which received a Grammy nomination. Through his participation in The Raconteurs, White showed off a different side to his musical talent.
In 2009, Jack White formed his third successful group, The Dead Weather, with members from The Kills, Queens of the Stone Age, and The Greenhornes. That same year, White opened the doors to his own record label, Third Man Records. The label quickly developed a reputation as the industry leader in vinyl records.
After a mutual dissolution of The White Stripes in 2011, Jack White began his solo career, which has proven successful thus far. To date, Jack White has won nine Grammy Awards in various categories.
On the first of April, White stated that his second solo album, Lazaretto, would drop on June 10th and has since announced that his summer would be filled with performances across North America and Europe. He will kick off the Lazaretto Tour mid-April at his own record label's storefront in Nashville, TN and will carry on through to the beginning of August, performing on 25 dates throughout North America. White will be joined on tour by Kelley Stoltz and Benjamin Booker.
Jack White 2014 Lazaretto Tour tickets go on sale to the general public this Friday, April 11th, at 10 am. Fans looking to secure their tickets to this popular event can secure their tickets by going to SuperStarTickets.com now. For a limited time, fans can purchase discounted Jack White tickets by using the promo code LAZARETTO14 at checkout.
Jack White 2014 North American Lazaretto Tour Dates:
4/19 - Nashville, TN (Third Man Records)
5/29 - Tulsa, OK (Cain's Ballroom)
5/30 - Lubbock, TX (Wild West)
5/31 - Houston, TX (Free Press Summer Festival)
6/1 - Houston, TX (Free Press Summer Festival)
6/2 - Shreveport, LA (Shreveport Municipal Memorial Auditorium)
6/3 - New Orleans, LA (Saenger Theatre)
6/5 - Charlotte, NC (The Fillmore Charlotte)
6/7 - New York, NY (Governor's Ball)
6/12 - Manchester, TN (Bonnaroo)
6/13 - Manchester, TN (Bonnaroo)
6/14 - Manchester, TN (Bonnaroo)
6/15 - Manchester, TN (Bonnaroo)
7/19 - Louisville, KY (Forecastle Festival)
7/20 - St. Louis, MO (Fabulous Fox Theatre)
7/21 - Milwaukee, WI (The Rave Milwaukee)
7/23 - Chicago, IL (The Chicago Theatre)
7/24 - Chicago, IL (Auditorium Theatre)
7/27 - Pittsburgh, PA (Stage AE Outdoors)
7/28 - Detroit, MI (Fox Theatre)
7/30 - Detroit, MI (Masonic Temple Theatre)
7/31 - Toronto, ON (Air Canada Centre)
8/1 - Montreal, QC (Osheaga Music & Arts Festival)
8/2 - Montreal, QC (Osheaga Music & Arts Festival)
8/3 - Montreal, QC (Osheaga Music & Arts Festival)
SuperStarTickets is the nation's premiere ticketing source for concerts, theatre and sporting events. We pride ourselves in not only our incredible tickets, but also in our commitment to our customers. With highly skilled representatives there to guide you along the way, we guarantee that your ticket buying experience will be easy and painless. For more information regarding the Jack White 2014 Lazaretto Tour or to find last-minute concert tickets go to SuperStarTickets.com now.