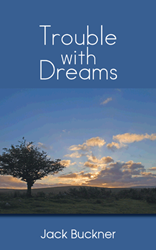 LOUGHBOROUGH, England (PRWEB) July 30, 2014
Two aging men struggling to come to grips with reality live on opposite ends of the world but possess similar problems. When they meet and realize their stories aren't so different, they become close friends. In the new novel by author Jack Buckner, "Trouble with Dreams" (published by AuthorHouse UK), these two men embark on a journey of self-discovery and friendship they never thought possible.
Buckner's story follows the not-so-different yet separate lives of Andy, an ex-professional football player, and Dennis, a retired public relations professional. Andy dreams of living life in the fast lane, while Dennis hopes to live the good life after retirement. Life doesn't go as planned for either – Dennis loses his life savings in a pension fund scam and Andy gets fired.
Interwoven with humor and a lighthearted message, "Trouble with Dreams" shows readers a bright side to troublesome situations.
"The way news is changing, stories are more and more personal," Buckner says. "It's all about personal experience. So balanced perspectives are lost in the quest for a personal story. At the same time, big and powerful organizations shape the way we view the world. 'Trouble with Dreams' is meant to explore the tensions between big global forces that shape the world and the places we live in every day."
"Trouble with Dreams"
By Jack Buckner
Softcover | 5 x 8 in | 338 pages | ISBN 9781491893562
E-Book | 338 pages | ISBN 9781491893579
Available at Amazon and Barnes & Noble
About the Author
Jack Buckner is a former international athlete who competed in two Olympic Games. In years past, he was an Adidas marketing executive and an apple orchard owner in New Zealand. He is currently a civil servant. "Trouble with Dreams" is his first novel.
AuthorHouse UK Ltd., an Author Solutions, LLC self-publishing imprint, is a leading provider of self-publishing, marketing, and bookselling services dedicated to serving authors throughout the United Kingdom. AuthorHouse UK is committed to providing authors the best self-publishing experience through a wide array of products and services designed to help individual authors realise their unique creative vision. AuthorHouse UK assigns each author a personal publishing, marketing, and book consultant to provide professional guidance throughout the self-publishing process. To date, AuthorHouse UK has released more than 6,500 titles. For more information or to begin publishing a book today, visit authorhouse.co.uk or call 0800 1974150 or follow @AuthorHouseUK on Twitter for our latest news and updates