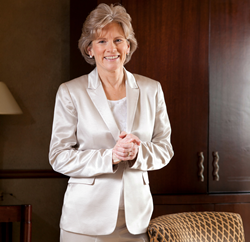 The Seattle DVR has worked with the community for over 70 years, and I hope to bring some insight to its members to help them grow and flourish.
Seattle, Washington (PRWEB) May 20, 2014
Speaker, author, and coach Jackie Woodside is set to speak at the Washington Division of Vocational Rehabilitation (DVR) on May 20-21st. The DVR, located in Seattle, strives to help individuals with disabilities become employed and participate to the fullest possible extent in their communities. The lesson will be on Transformational Leadership and Engagement, as well as Debunking the Myths of Time and Stress Management. Ms. Woodside is fluent in ASL and will deliver the entire address in sign language.
Woodside, who coaches and practices consciousness-based psychotherapy, has a great deal of experience providing workshops for management training, and programs for employees and churches. Her speeches at the DVR promises to be full of insight and inspiration.
Jackie Woodside's speech on Transformational Leadership and Engagement will be a very interactive program with the goal of creating change from the inside out. When employed, transformational leadership fosters collaboration and a sense of connection between the individuals involved and the mission of the workplace. The leaders who employ this strategy use a combination of vision, passion, and action to inspire and engage others. Her speech on Debunking the Myths of Time and Stress Management addresses the cultural epidemic of overwhelmedness. Jackie Woodside has a revolutionary approach to increasing effectiveness, productivity, and peace of mind so that people don't feel too overloaded to focus on what they most value. The goal of this workshop is to change individuals' experience of time, so that it is seen as a resource one can use to fulfill their potential rather than an effort-filled race. Says Ms. Woodside, "The Seattle DVR has worked with the community for over 70 years, and I hope to bring some insight to its members to help them grow and flourish."
Jackie Woodside is currently finishing her new book, 'Overwhelmed? Transforming Time and Creating a Life of Meaning', which will also deal with time, stress, and energy management. This second book in Jackie's repertoire is slated for release this fall, and will be published by Next Century Publishing. A dynamic speaker for hire, Jackie Woodside concludes, "No matter what you do, it's crucial to find that fulfillment in your life."
Jackie Woodside
Jackie Woodside is a torchbearer for a transformed world illuminating freedom, fulfillment, and passion. She knows that everyone has their own amazing truth, but must have courage and be willing to shirk conventions to discover it. Keeping this in mind, Jackie created her revolutionary Life Design program to teach the ongoing experience of a wonder-filled life. An enthusiastic proponent of consciousness, Jackie is the Amazon Best Selling author of, "What If It's Time for a Change…?", as well as a contributing author in the award- winning book "Conscious Entrepreneurs." Jackie is the embodiment of vibrant talent coupled with extensive experience. She is a trained psychotherapist, Certified Professional Coach (CPC), and Energy Leadership Master Practitioner (EL-MP) and has spent the last two decades using her deep understanding of human development to aid others through her work as a speaker, coach and trainer, all while using her fluency in American Sign Language to work as a therapist, manager, and consultant for the Deaf. Jackie knows that honoring one's instincts and listening to that inner voice is the best way to live a magical life of passion and purpose. She believes spirituality is an art: one must learn to practice practicality while still bringing their spiritual self to all aspects of life.
Jackie has trained with and is certified by the Institute for Professional Excellence in Coaching (IPEC), has a Masters in clinical social work, and serves as the board president at Unity on the River, a spiritual community in Amesbury, MA. Whether working with professorial organizations and companies, churches, entrepreneurs, or individuals, she aims to help others find creativity, wonder, excellence and most of all, fulfillment in their lives.
Follow Jackie Woodside on Twitter.