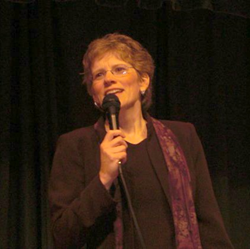 The goal of our human existence is to transform, to elevate our human experience and to transcend the powerful hold of the ego.
(PRWEB) July 15, 2014
It has been said that Jackie Woodside is creating a "new vertical" in the human potential movement, creating a school of thought that says there is an exact science to living in the realm of miracles and that anyone can learn to do so. Jackie is a popular author and motivational speaker and is often asked to address large groups, bringing a sense of inspiration and possibility wherever she goes.
On September 12, 2014, Jackie will address human resource managers at the Executive Office of Health and Human Services. She will speak on the topic of her new book, Calming the Chaos and will discuss how busy professionals can learn to go through their days with an increased sense of calm and productivity. Jackie says that this program will leave people being "the least stressed and most productive people around."
Jackie's books outline her deeply-held beliefs that everyone has his or her own unique, individual expression in life and must be willing to step outside conventional wisdom to discover it. She has created a revolutionary program called The Curriculum for Conscious Living to teach about how each of us can consciously create our lives to experience greater happiness and freedom while simultaneously making a bigger difference for others on this planet. Her book, What If It's Time for a Change? addresses the issue of breaking away from convention, while her new book, Calming the Chaos: A Soulful Guide to Managing Your Energy Rather than Your Time addresses how to live with a higher level of thinking or consciousness particularly related to time, while also teaching practical skills regarding how to manage your self more effectively in time. Calming the Chaos will be published by Next Century Publishing on October 14, 2014.
Ms. Woodside is a trained psychotherapist, Certified Professional Coach and Energy Leadership Master Practitioner. She is also fluent in sign language and regularly addresses both hearing and Deaf audiences. As president to the Board of Trustees at Unity on the River, a spiritual community in Amesbury, Massachusetts, Jackie believes that spirituality is an art that must also include wildly practical elements in order to live the spiritual truths one believes. For more information on Jackie and her teaching and writing, visit http://jackiewoodside.com/.
Jackie Woodside
Jackie Woodside is the founder of the Woodside Wellness Institute, a holistically-oriented center offering coaching, spiritual retreats, professional development training and consciousness-based psychotherapy. Jackie created a spiritually-oriented coaching program entitled, "The Curriculum for Conscious Living" which includes three courses: Life Design, Life Mastery and Living a Transcendent Life.
Jackie leads spiritual retreats and has spoken at numerous Unity churches around the country. She delivered her first TEDx talk in 2012 at TEDxWaldenPond. She was a featured speaker at the Unity Worldwide Ministries Eastern Region Conference in 2010 and 2013, as well as speaking at the national Unity People's convention (2012) and was a featured trainer in the Association of Unity Churches Enlightened Leaders Program (2011). She has taught at the Unity Institute and Seminary as well.
Jackie is an Amazon Best Selling author of a new book entitled "What If It's Time for a Change?", a contributing author in the award-winning book "Conscious Entrepreneurs," a regularly contributing author to Unity's Contact Magazine as well as The New Face of Leadership Magazine in a column called "Coaches Corner." Her second book is due out in October 2014 and is entitled "Calming the Chaos: A Soulful Guide to Managing Your Energy Rather than Your Time."