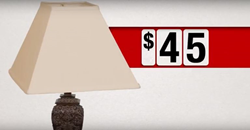 www.JackofAllShades.Com We've Got you covered!
Albertville, Alabama (PRWEB) May 07, 2016
Albertville, AL - When it comes to replacing their lampshades, homeowners will no longer have to accept only what major retailers like Home Depot, Lowes, Walmart, or Target have on their shelves. Jack of All Shades LLC is announcing that they are offering retail public distribution of lampshades through their new and improved website: jack of all shades dot Custom lamp shades are now available as a cost effective way to replace existing lamp shades and get the size, color, and shape that customers are looking for. No longer are the 10 or 12 sizes showing up on the store shelves the customer's only choice.
Currently, buying a lamp shade from a major retailer means that you must accept whatever size, shape, and color they offer on their shelves – and normally those will be manufactured in China with questionable quality and low selection.
Homeowners can now purchase custom lamp shades at http://www.jackofallshades.com in the color and size and shape that they desire from an American company. JackOfAllShades offers round custom lamp shades, oval custom lamp shades, square custom lamp shades, rectangle custom lampshades, pendant custom lamp shades and many other shapes. Lampshade sizes range from 4 inches for chandelier lamp shades up to oversized lamp shades that are 5 and 6 feet in diameter – and every size in between.
JackOfAllShades has over 150 colors and materials available and even allows the customer send in their own material to make a custom lampshade that matches a room's exact décor.
JackOfAllShades' retail store is on the internet at jack of all shades dot com so they sell to every American homeowner coast to coast – From New York to California to Florida and Texas. We ship your lampshade out of Albertville, Alabama.
In addition to their custom manufacturing facility of hard backed lampshades, JackOfAllShades also stocks an inventory of high quality silk (soft backed) lampshades as well as the ability to repair existing silk (soft backed) lampshades.
About Jack of All Shades
Jack of All Shades is an American company based in Albertville, AL. We began making lampshades over 27 years ago and many of our employees have been here since we opened. We proudly craft each custom lamp shade to your specifications. For more information, contact: CustomerService(at)JackOfAllShades(dot)com or call us at 866-231-JACK(5225).
Helpful Videos: https://youtu.be/n2OaBPEJ864
Measuring Round Lampshades - Jack of All Shades || https://youtu.be/_moL0ZDswAc
Measuring Oval Lampshades - Jack of All Shades || https://youtu.be/dAxm_W5zJXY
Measuring Rectangle Lampshades - Jack of All Shades || https://youtu.be/ahP1QJd0_PQ