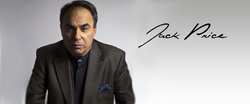 It's been an honor to represent premium talent in every aspect of the entertainment industry for the past thirty-two years.
New York, NY (PRWEB) March 02, 2016
"It's been an honor to represent premium talent in every aspect of the entertainment industry for the past thirty-two years," said Jack Price, founder of Price Rubin & Partners and concert pianist formerly known as Dickran Atamian. "I have made a name for myself due to a persuasive and aggressive management style that sets my clients apart from their peers."
Price/Atamian was thrust into the music world at age 11 when he debuted as guest artist with the Phoenix Symphony Orchestra. He went on to play a plethora of major concerts, averaging thirty per year, until 2006 when he decided to devote all his time to advocacy rather that artistry. Over the last ten years, he has solely been a manager, making a name for himself as a brutally honest sharp-shooter.
"I don't guarantee my artists concerts, but I do guarantee the most work done as a manager," said Price. "No manager should ever guarantee concerts. A lot of people throw a lot of money at certain people in this industry, so an artist has to be very careful with those who promise the world."
To make it as an artist, adds Price, one has to be timely and intersect with opportunity and interest. As for Price, he enjoys making deals and talking on the phone, not performing in front of thousands of people.
"I asked myself, 'How can I use my talent and my abilities and enjoy a better standard of living and still be relevant and help fellow musicians?'" said Price. "That's when the management company came into play. When you perform as a pianist, you are selling, and I was a born salesman."
About Jack Price, Price Rubin & Partners Artist Management
Jack Price helps artists develop their individual market branding and career milestones. The Price Rubin & Partners staff makes thousands of calls every month to decision-makers who are in charge of talent acquisition for concerts, events and fundraisers. They offer real-time reporting where artists can see their campaign unfolding second by second. Price Rubin stands for transparency and accountability in artist management today. For more information, please call (310) 254-7149, or visit http://www.pricerubin.com.
About the NALA™
The NALA offers small and medium-sized businesses effective ways to reach customers in the digital age, while providing a single-agency source that helps them flourish in their local community. The NALA offers its clients an array of marketing tools from press release campaigns and social media management to a cause marketing program. The NALA's mission is to make businesses relevant and newsworthy, both online and through traditional media, by providing increased exposure at reasonable costs. For media inquiries, please call 805.650.6121, ext. 361.